Activists say Syrian missile strike kills 8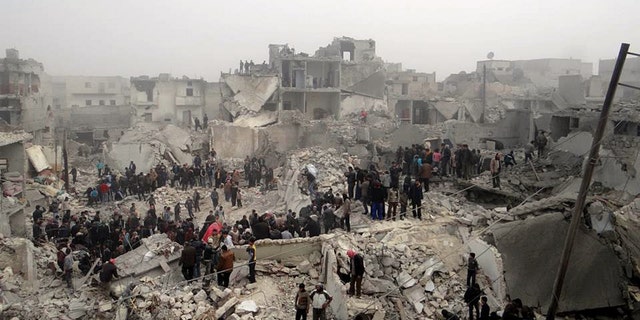 BEIRUT – A Syrian missile strike leveled a stretch of buildings and killed at least eight people in the city of Aleppo, anti-regime activists said Tuesday.
Videos posted online showed scores of men searching the destroyed buildings in the Jabal Badro neighborhood for the dead and wounded. One man swung a sledgehammer to break through concrete while a bulldozer hauled off rubble. In another video, a man covered in grey dust struggled under pile of concrete.
The Britain-based activist group Syrian Observatory for Human Rights and the Aleppo Media Center reported at least eight dead in the attack late Monday night, saying the strike appeared to be from a ground-to-ground missile.
Aleppo activist Mohammed al-Khatib said via Skype that the death toll could rise further as residents search the site for more bodies.
"There are still many martyrs under the rubble. ... There are still lots of people missing from the area," he said.
He said the strike appeared to be from a large ground-to-ground missile because of the scale of the destruction and because residents did not report hearing a fighter jet, as they usually do during airstrikes.
Although President Bashar Assad's forces regularly shell and launch airstrikes on areas held by anti-government rebels, their use of large missiles has been limited.
In December, U.S. and NATO officials confirmed rebel reports that Syrian forces had fired Scud missiles at rebel areas in northern Syria. That was the last confirmed use of such weapons.
Also Wednesday, rebels clashed with government forces near Aleppo's international airport and the Kweiras military airport nearby, the Observatory said. Clashes have halted air traffic to the two airports for weeks, since rebels launched their offensive to try to capture them.
The Observatory also reported government shelling and airstrikes and clashes between government forces and rebels east and south of the capital, Damascus.
The Syrian state news agency said the army had carried out "successful operations against terrorists" in Aleppo, mentioning a number of neighborhoods that did not include Jabal Badro.
Syria refers to rebels seeking to topple Assad as "terrorists" and blames the conflict on an international conspiracy to weaken the country.
The U.N. says some 70,000 have been killed since Syria's uprising against Assad's rule began in March 2011.
On Monday, U.N. investigators called on the Security Council to refer Syria to the International Criminal Court, after issuing a report that accused elements on both sides of committing atrocities.
The 131-page report by the U.N.-appointed Commission of Inquiry on Syria detailed deepening radicalization by both sides, who increasingly see the war in sectarian terms and rely on brutal tactics to advance their cause, spreading fear and hardship among civilians.
The report accused both sides of atrocities, but said those committed by rebel fighters have not reached the "intensity and scale" of the government's violations.
The report also accused both sides of using child soldiers, citing the presence of fighters younger than 18 on the government side and under 15 among the rebels.
The commission said it will submit a new, confidential list of Syrians suspected of committing crimes against humanity to the U.N. high commissioner for human rights, Navi Pillay, next month.