Acid attack on toddler shows corrosive liquid is new 'weapon of choice'
The acid attack of a 3-year-old boy inside a busy store in England highlights the growing trend of attackers using the corrosive liquid as a weapon of choice.
Four men – ages 22, 25, 26, and 39 – were arrested in connection with the Saturday attack against a toddler inside a discount store in Worcester. The child, who suffered serious burns to his arms and face, was treated at the hospital and later released.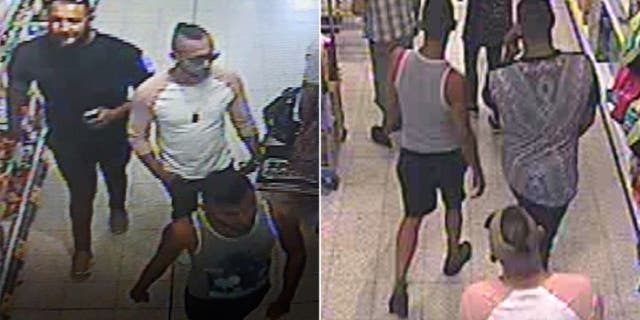 "At this time we are treating this as a deliberate attack on a 3-year-old boy," West Merica Police Chief Superintendent Mark Travis said in a statement over the weekend. "The incident will rightly shock the local community and I would like to reassure the local public that we are carrying out a thorough investigation to identify those responsible."
4 MEN ARRESTED IN CONNECTION WITH APPARENT ACID ATTACK ON 3-YEAR-OLD BRITISH BOY, POLICE SAY
The use of corrosive liquids, which leave victims gruesomely disfigured with life-altering injuries, has grown in popularity the last few years.
In Britain, the number of reported attacks using acid rose from 262 in 2015 to 454 in 2016. In 2017, there were more than 500 acid attacks reported across the region.
In London alone, there were 208 reported cases of crimes using "corrosive substances" in 2016-2017, Metropolitan police reported last year.
British police have reported seeing an increase in acid attacks during the last year, but it is very rare for a victim to be so young. Some attacks are related to gang fights or late-night bar confrontations.
Most of the attacks have happened in London, but they have been reported in many parts of Britain. This year, a London teenager was given a prison sentence of more than 10 years after being convicted of spraying acid onto the faces of moped drivers so he could steal their mopeds.
Police also report that innocuous liquids sometimes are thrown into the face of mugging targets to make them think they have been hit with a corrosive substance. The victims panic and give up their valuables more easily, police said.
WOMAN SUFFERS SEVERE BURNS IN 'CAUSTIC CHEMICAL' ATTACK; SUSPECT FLEES, POLICE SAY
Simon Harding, a criminologist and expert on gangs at Middlesex University, told the BBC that acid is becoming a "weapon of first choice" because "acid throwing is a way of showing dominance, power and control, building enormous fear among gang peer groups."
He said that gang members see using acid in attacks as a having a better advantage to get a less charge than using a knife.
"There's no specific offence of throwing acid," Harding said. "It's a hard offence to prove because there is rarely any DNA evidence and it's much easier to dispose of a plastic bottle than it is a knife."
The British government has been working diligently to crackdown on the use of acid, however there are no laws because many times the liquid is made up of easily assessable household products.
According to the BBC, there are no age restrictions on buying household bleach or drain-cleaning products containing acid in the U.K.
Last year, there was a proposal to ban the sale of most corrosive substances and acids to those under the age of 19 and to make it a criminal offense to carry these substances in a public area.
"Acid attacks are absolutely revolting," former Home Secretary Amber Rudd said last year when she proposed the ban. "You have all seen the pictures of victims that never fully recover. Endless surgeries. Lives ruined."
The use of acid in attacks has even spread to children as young as 12 who have been arming themselves with substances "for self-defense."
Robin Walker, the Worcester representative in Parliament, said lawmakers are considering allowing tougher sentences for people convicted of any type of intentional assault with acid.
He described what happened to the 3-year-old boy as "horrific."
The Associated Press contributed to this report.