Aaron Hernandez's Fiancee Indicted On Perjury Charge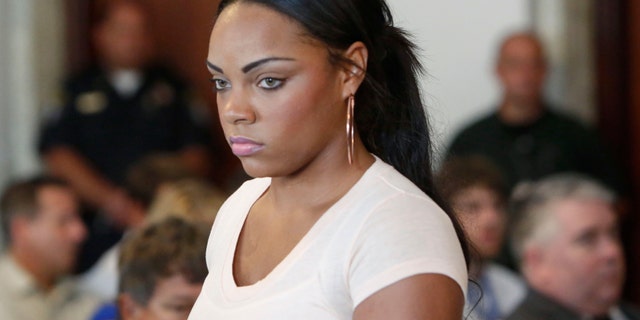 NORTH ATTLEBOROUGH, Mass. – Aaron Hernandez's fiancee was indicted on a single charge of perjury Friday in connection to the murder investigation surrounding the ex-New England Patriot.
In August, the Hartford Courant reported investigators searched a storage unit in Bristol, Conn. rented to 24-year-old Shayanna Jenkins because they believed she made "overt attempts to hide evidence" as well as to "hinder and mislead" the murder investigation.
Surveillance video, text messages between Jenkins and her sister, as well as an interview with her sister, are all referenced in the documents, the newspaper reported. Officials have suggested Jenkins may have information regarding what happened to the handgun used in the shooting.
According to court documents, Jenkins was reportedly seen on surveillance video carrying a plastic bag believed to contain a "rigid object" from Hernandez's North Attleborough home and placing it into a car one day after Odin Lloyd was found deceased in a nearby industrial park. She returned to the home nearly a half hour later without the trash bag.
One of Jenkins' uncles told investigators Jenkins handed him and another uncle a cell phone and Hernandez asked for all of the weapons to be removed from the couple's North Attleborough home. The uncle claims the weapons were discarded "into the woods."
A Bristol County Grand Jury voted to indict Jenkins at the same time they voted to indict Hernandez's cousin, 37-year-old Tanya Singleton, of Bristol, Conn., on a charge of conspiracy to commit accessory after the fact.
Investigators said Ernest Wallace, who is charged with accessory to murder after the fact, told Singleton about the fatal shooting. She was held after refusing to testify before a grand jury probing the murder.
Arraignment dates for both women were not set Friday.
Another Hernandez associate was indicted on a charge of accessory to murder after the fact Friday. Carlos Ortiz had previously pleaded not guilty to a gun charge in connection to the case after cooperating with investigators. FOX Undercover first reported Thursday that his deal with prosecutors had fallen apart and an indictment was expected.
Hernandez pleaded not guilty in Fall River Superior Court to first degree murder and weapons charges earlier this month.
For more stories go to myfoxboston.com
Follow us on twitter.com/foxnewslatino
Like us at facebook.com/foxnewslatino