Aaron Hernandez Sued By Families Of Victims In Double Murder Possibly Related To Odin Lloyd's Killing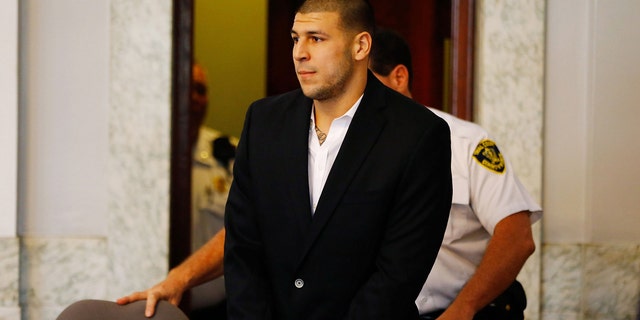 FALL RIVER, Mass. (MyFoxBoston.com) -- – The families of two men found fatally shot in Boston in 2012 have filed wrongful death lawsuits against former New England Patriots player Aaron Hernandez.
The lawsuits come as Hernandez is facing 30 days of solitary confinement after getting into a fight with another inmate at the Bristol County House of Corrections on Tuesday.
Boston-area media report that the lawsuits were filed Wednesday in Suffolk Superior Court on behalf of the families of Daniel Abreu and Safiro Furtado. Each seeks $6 million.
The men were sitting in an SUV in the city's South End in July 2012 when another SUV pulled up and someone inside opened fire.
Nobody has been criminally charged with their deaths, but Hernandez has been identified by police as a suspect.
The 24-year-old Hernandez is being held without bail after pleading not guilty to murder in the unrelated death of 27-year-old Odin Lloyd in North Attleborough. Lloyd was dating the sister of Hernandez's fiancee.
Hernandez is now facing four lawsuits, including one by Lloyd's family and another by a former friend who alleges Hernandez shot him in the face.
One of the lawsuits was filed by the brother of Daniel Abreu. The other was filed by the father of Safiro T. Furtado. Both men were gunned down in Boston's South End during a drive-by shooting. Someone pulled up next to the BMW they were in and opened fire. The plaintiffs are each seeking $6 million from Hernandez.
The filings allege Hernandez willfully, recklessly and/or maliciously shot a fire arm from inside his vehicle killing both men. It also says Furtado and Abreu sustained excruciating extensive conscious pain and suffering prior to death.
Hernandez was first linked to the killings over the summer, within days after he was charged with the murder of Odin Lloyd.
Court documents suggest Lloyd may have been killed because he was talking about the Boston double murder and Hernandez wanted to silence him. Why Abreu and Furtado were killed still remains a mystery.
Court documents say hours before the double murder Hernandez is seen on surveillance cameras following Abreu and Furtado and three other their friends into a Boston night club. Later in the night, surveillance shows Hernandez following the men as they walked out of the club.
Two big questions remain. Will Hernandez be charged with the Boston double murder? And if so, how much longer will it take?
Based on reporting by the Associated Press.
For more reporting on the Aaron Hernandez case go to MyFoxBoston.Com.
Follow us on twitter.com/foxnewslatino
Like us at facebook.com/foxnewslatino