Aaron Hernandez Murdered Odin Lloyd Execution-Style, Prosecution Says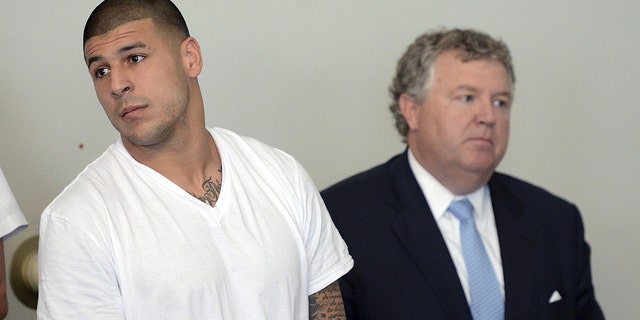 Aaron Hernandez stood impassively with his hands cuffed in front of him, tattoos covering up both of his arms, as he was charged with first-degree murder.
During his arraignment on Wednesday, prosecutors said Hernandez, who was both arrested and kicked off the New England Patriots on Wednesday, orchestrated an execution-style shooting of his friend Odin Lloyd because he talked to the wrong people at a nightclub.
Bristol County Assistant District Attorney Bill McCauley laid out a detailed timeline of the events, cobbled together from sources including witnesses, surveillance video, text messages and data from cell phone towers.
In the final minutes of his life, Lloyd sent a series of texts to his sister.
"Did you see who I was with?" said the first, at 3:07 a.m. June 17. "Who?" she finally replied.
"NFL," he texted back, then added: "Just so you know."
It was 3:23 a.m. Moments later, Lloyd was dead.
Just before being charged with murder, Hernandez was cut from the New England Patriots.
The team made the decision less than two hours after the tight end was arrested at his North Attleborough home and led away in handcuffs. Only last summer, the 2011 Pro Bowl selection signed a five-year contract with the Patriots worth $40 million.
His attorney, Michael Fee, called the case circumstantial during the Wednesday afternoon court hearing that was jam packed with reporters, curiosity seekers and police officers. Fee said there was a "rather hysterical atmosphere" surrounding the case and urged the judge to disregard his client's celebrity status as he asked for Hernandez, 23, to be released on bail.
The judge, though, ordered Hernandez held without bail on the murder charge and five weapons counts. If convicted, Hernandez could get life in prison without parole.
Lloyd, 27, a semi-pro football player with the Boston Bandits, had known Hernandez for about a year and was dating the sister of Hernandez's fiancee, the mother of Hernandez's 8-month-old baby, McCauley said.
On June 14, Lloyd went with Hernandez to a Boston club, Rumor. McCauley said Hernandez was upset Lloyd had talked to people there with whom Hernandez had trouble. He did not elaborate.
Two days later, McCauley said, on June 16, Hernandez texted two unidentified friends. He asked them to hurry to Massachusetts from Connecticut. At 9:05 p.m., a few minutes after the first message to his friends, Hernandez texted Lloyd to tell him he wanted to get together, McCauley said.
Later, surveillance footage from Hernandez's home showed his friends arrive and go inside. Hernandez, holding a gun, then told someone in the house he was upset and couldn't trust anyone anymore, the prosecutor said.
At 1:12 a.m., the three left in Hernandez's rented silver Nissan Altima, McCauley said. Cell towers tracked their movements to a gas station off the highway. There, he said, Hernandez bought blue Bubblicious gum.
At 2:32 a.m., they arrived outside Lloyd's home in Boston and texted him that they were there. McCauley said Lloyd's sister saw him get into Hernandez's car.
From there, surveillance cameras captured images of what the prosecutor said was Hernandez driving the silver Altima through Boston. As they drove back toward North Attleborough, Hernandez told Lloyd he was upset about what happened at the club and didn't trust him, McCauley said. That was when Lloyd began sending texts to his sister.
Surveillance video showed the car entering the industrial park and at 3:23 a.m. driving down a gravel road near where Lloyd's body was found. Four minutes later, McCauley said, the car emerged. During that period, employees working an overnight shift nearby heard several gunshots, McCauley said.
McCauley said Lloyd was shot multiple times, including twice from above as he was lying on the ground. He said five .45 caliber casings were found at the scene.
Authorities did not say who fired the shots or identify the two others with Hernandez.
At 3:29 a.m., surveillance at Hernandez's house showed him arriving, McCauley said.
"The defendant was walking through the house with a gun in his hand. That's captured on video," he said.
His friend is also seen holding a gun, and neither weapon has been found, McCauley said.
Then, the surveillance system stopped recording, and footage was missing from the six to eight hours after the slaying, he said.
The afternoon of June 17, the prosecutor said, Hernandez returned the rental car, offering the attendant a piece of blue Bubblicious gum when he dropped it off. While cleaning the car, the attendant found a piece of blue Bubblicious gum and a shell casing, which he threw away. Police later searched the trash bin and found the gum and the casing. The prosecutor said it was tested and matched the casings found where Lloyd was killed.
As McCauley outlined the killing, Lloyd's family members cried and held each other. Two were so overcome that they had to leave the courtroom.
Hernandez, originally from Bristol, Conn., was drafted by the Patriots in 2010 out of the University of Florida, where he was an All-American.
A Florida man filed a lawsuit last week claiming Hernandez shot him in the face after they argued at a strip club in February.
Hernandez became a father on Nov. 6 and said he intended to change his ways: "Now, another one is looking up to me. I can't just be young and reckless Aaron no more. I'm going to try to do the right things."
Based on reporting by The Associated Press.
Follow us on twitter.com/foxnewslatino
Like us at facebook.com/foxnewslatino