Aaron Hernandez Case: Judge Mulls Gag Order To Plug Media Leaks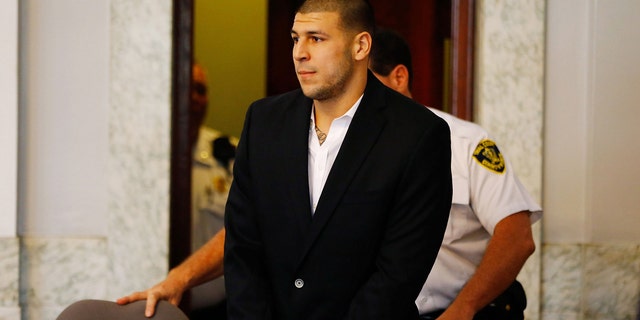 FALL RIVER, Mass. (AP) – A judge may impose a formal gag order in the murder case against former New England Patriots tight end Aaron Hernandez after his attorneys accused the state of allowing leaks they contend could jeopardize his right to a fair trial.
At a hearing in Fall River Superior Court on Monday, defense attorney Michael Fee blamed prosecutors for out-of-court statements reported in the media that he says have tarnished the ex-player.
"Mr. Hernandez is entitled to a fair trial," Fee told Judge Susan Garsh during the hourlong proceeding. "He is entitled to a jury panel that has not been poisoned by either false or sensational statements."
The judge did not immediately rule on the defense's request for a formal gag order.
Hernandez has pleaded not guilty to murder in the June shooting death of Odin Lloyd, a 27-year-old semi-professional football player who was dating the sister of Hernandez's girlfriend.
In a November filing, Hernandez's attorneys said the state had "flouted" the rules of professional conduct and disregarded the judge's admonition against prejudicial out-of-court commentary.
The defense said the prosecution orchestrated a "publicity stunt" in October, when authorities served Miami Dolphin Michael Pouncey with a subpoena related to the case after playing the Patriots at Gillette Stadium in Foxborough. Pouncey played football with Hernandez at the University of Florida. The defense said serving the subpoena in that way and statements to the media attributed to law enforcement sources whipped up more publicity about the case.
The prosecution has not commented publicly on the subpoena.
In court Monday, Assistant District Attorney William McCauley denied the allegations, saying no leaks have come from the district attorney's office or the investigative team.
"We are playing fair," he said. "We've agreed to the rules of professional conduct, and we're abiding by them."
McCauley accused the defense of misconduct by calling into question the state's integrity, without evidence of who was responsible for any leaks.
Despite sparring in court, the two sides agreed in principle on the issuance of a gag order. The judge asked both to submit specific proposals for a formal order, both due in January.
Hernandez, who's from Bristol, Conn., was in court Monday but did not speak. His girlfriend, Shayanna Jenkins, and mother also attended. Jenkins is facing a perjury charge related to her testimony before the grand jury that indicted Hernandez. She has pleaded not guilty.
Prosecutors allege Hernandez killed Lloyd because he was upset with him for talking to some people at a nightclub with whom Hernandez had problems.
Follow us on twitter.com/foxnewslatino
Like us at facebook.com/foxnewslatino