A look at major plane crashes in Cuba in recent years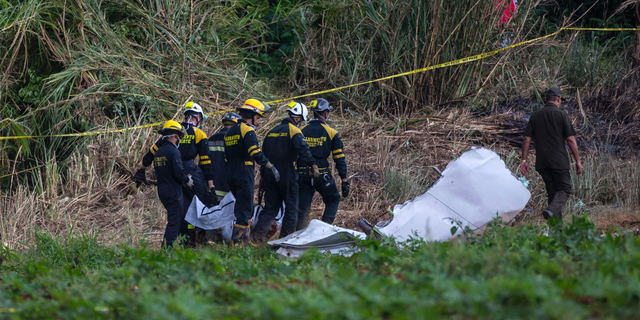 NEWYou can now listen to Fox News articles!
HAVANA – A look at some of the major plane crashes in Cuba in recent years:
— May 18, 2018: A Boeing 737 operated by state airline Cubana crashes on takeoff from Jose Marti International Airport in Havana with 104 passengers and six crew members on board. There were three apparent survivors. The plane was headed to the eastern city of Holguin and crashed between the airport in southern Havana and the nearby town of Santiago de Las Vegas.
— April 29, 2017: A Cuban military plane crashes into a hillside in the western province of Artemisa, killing eight troops on board, the government said. The Soviet-made AN-26 took off from the Playa Baracoa airport outside Havana and crashed outside the town of Candelaria about 40 miles (65 kilometres) away.
— Nov. 4, 2010: An AeroCaribbean flight from Santiago to Havana went down in bad weather as it flew over central Cuba, killing all 68 people aboard, including 28 foreigners. It was the country's deadliest air disaster in more than two decades. Cuban aviation authorities later blamed bad weather and pilot error for the crash.
— Sept. 4, 1989: A chartered Cubana plane flying from Havana to Milan, Italy, went down shortly after takeoff, killing all 126 people on board, as well as at least two dozen on the ground.
— Oct. 6, 1976: Cubana flight from Barbados to Jamaica is blown up by bomb, killing 73. The attack is blamed on exiles with ties to U.S.-backed anti-Castro groups. Both of the men accused of masterminding the crime took shelter in Florida, where one, Luis Posada Carriles, lives to this day.