'A Beautiful Mind' mathematician John Nash's wife, also killed in crash, came from aristocratic Central American family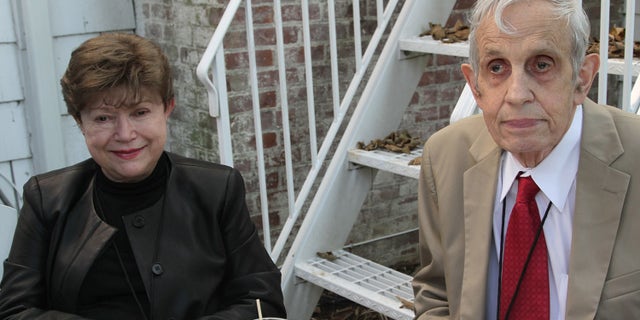 NEWYou can now listen to Fox News articles!
Members of the math and science world, along with fans of the 2001 Academy Award winning film "A Beautiful Mind" are mourning the loss of mathematical genius John Forbes Nash Jr., who died along with his wife Alicia in a car crash on Saturday. They were 86 and 82, respectively.
The Nashes, whose story was chronicled in the Oscar-winning movie starring Russell Crowe and Jennifer Connelly, first met at the Massachusetts Institute of Technology, while she was studying physics.
According to the PBS documentary "A Brilliant Madness," it was Alicia's dream to become the next Marie Curie. She attended M.I.T. as one of only 16 women in the class of 1955.
Alicia, born Alicia Lopez-Harrison de Larde in El Salvador on Jan. 1, 1933, came from an aristocratic family that hobnobbed with the intelligentsia of the Central American country, rather than it's landed oligarch.
While much is unknown about her life in El Salvador, Alicia's family spoke French, English and Spanish, were well-travelled and lived in a beautiful villa near the center of San Salvador, El Salvador's capital.
According to "A Beautiful Mind" author Sylvia Nasar, a classmate of Alicia's described her as "an El Salvadoran princess with a sense of noblesse oblige."
Her family's prolific life in El Salvador ended when her father, a doctor, left for the United States in 1944, with the family following soon after. They first settled in Biloxi, Mississippi before arriving in New York City, where Alicia attended the exclusive Catholic girls' school Marymount School thanks to a reference by the El Salvador ambassador to the United States.
From there, she was accepted into M.I.T to study physics.
According to the PBS documentary, Nash and Alicia met in an advanced calculus for engineering class, but did not become a couple until they met at the university's music library, where she worked.
"I walked into the classroom, and I thought he was very nice looking," she said in the documentary, remembering the first time she saw her husband. "He was like the fair-haired boy of the math department."
Their attraction to each other and love affair led to their marriage in February 1955, in a Roman Catholic ceremony even though Nash was an atheist.
In was only four years later that Nash's first symptoms of mental illness started to appear. Alicia, who was pregnant with their first child, tried to hide the illness from their friends and faculty at M.I.T.
"Alicia wanted to save his career and preserve his intellect," a friend recalled to PBS. "It was her interest to keep Nash intact."
Nash resigned from his tenured position at M.I.T in the spring of 1959 and Alicia had him admitted to the McLean Hospital for treatment of schizophrenia that year. Their son John Charles Martin Nash was born soon after.
"I tried to remain positive as much as I could," Alicia told PBS. "And I really tried not to feel pity for myself."
Due to the stress of dealing with the illness, Nash and Alicia divorced in 1963. Though, nearly a decade after their divorce, she would then accept him back into her home after his final hospital discharge in 1970 as a border, not as her husband.
"They say that a lot of people are left on the back wards of mental institutions," Alicia told PBS, while speaking of her decision to take Nash in. "And somehow their few chances to get out go by and they just end up there. So, that was one of the reasons I said, 'Well, I can put you up.' "
Nash's schizophrenia diminished through the 1970s and 1980s as he "gradually began to intellectually reject some of the delusionally influenced lines of thinking," he wrote in an autobiography written for The Nobel Foundation Web site.
In 1994, he won the Nobel Prize in economics for his work in game theory, which offered insight into the dynamics of human rivalry. It's considered one of the most influential ideas of the 20th century.
Thirty-eight years after their divorce, Nash and Alicia remarried in 2001
"We thought it would be a good idea," she told PBS. "After all, we've been together most of our lives."
The Associated Press contributed to this report.