9 die in fire destroying Argentine bank archives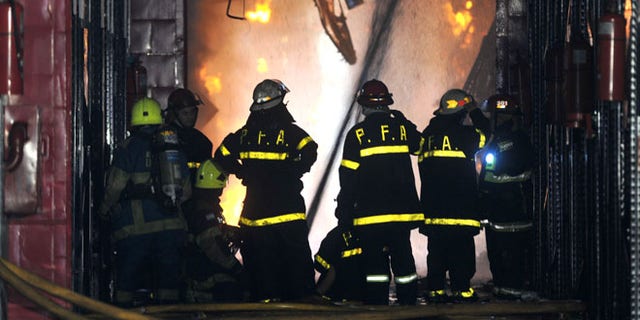 BUENOS AIRES, Argentina – Nine first-responders were killed, seven others injured and two were missing as they battled a fire of unknown origin that destroyed an archive of bank documents in Argentina's capital on Wednesday.
The fire at the Iron Mountain warehouse took hours to control and the sprawling building appeared to be ruined despite the efforts of at least 10 squads of firefighters.
The nine firefighters and civil defense workers were crushed when a brick wall collapsed on top of a large group of first-responders on the sidewalk and street outside, Argentina's Security Secretary Sergio Berni said.
"It took them completely by surprise," Berni said. "Some of the injured are fighting for their lives."
Berni said Iron Mountain also had its own internal firefighting team at the site, and that a search continued for two missing employees who may have been trapped somewhere inside.
Rescuers removed rubble by hand to reach people caught under the collapsed exterior wall.
The destroyed archives included documents stored for Argentina's banking industry, said Buenos Aires security minister Guillermo Montenegro.
The cause of the fire wasn't immediately clear.
Boston-based Iron Mountain manages, stores and protects information for more than 156,000 companies and organizations in 36 countries. Its Argentina subsidiary advertises that its facilities have multiple protections against fire, including advanced systems that can detect and quench flames without damaging important documents. The company says separately that it uses halon gas to smother fires. Calls and messages left with Iron Mountain on Wednesday were not immediately returned.
"There are cameras in the area, and these videos will be added to the judicial investigation, to clear up the motive of the fire and collapse," Montenegro told the Diarios y Noticias agency.