9/11 mastermind stars in Turkish company's hair removal ad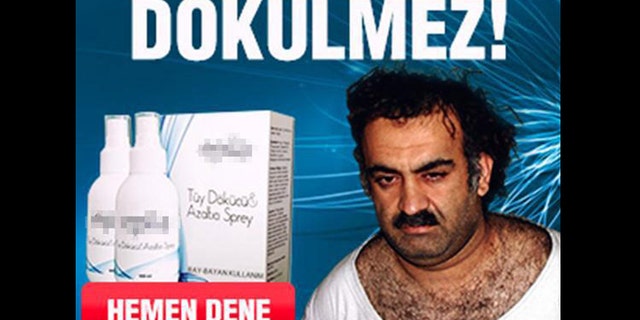 A Turkish cosmetics company found themselves in a hairy situation Wednesday after it was noticed that they were using a former Al Qaeda mastermind as a model for one of its products.
The online ad by Epila, for a hair removal product, shows a well-circulated photograph of a disheveled Khalid Sheikh Mohammed – the mastermind of the 9/11 terror attacks currently in U.S. custody at Guantanamo Bay.
A slogan above the picture reads, "The hair will not go away because you keep waiting!" according to the Hurriyet Daily News.
"We didn't know that he was a terrorist. This image is in popular use in Turkish memes on the Internet" Mehmet Can Yildiz, a representative for Epila, told the newspaper. "The guy is quite hairy, so we thought his body was a good fit for our ad."
Yildiz added that the company "didn't want to imply anything political."
"I repeat: We featured him for his hair, not terrorism," he added.
Click for more from the Hurriyet Daily News.