7 Nepalese women scale highest peaks on all 7 continents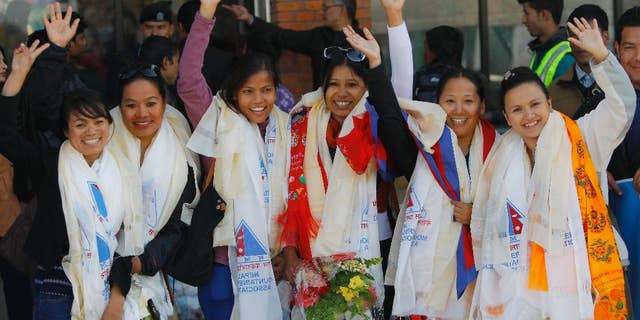 KATHMANDU, Nepal – A group of Nepalese returned home Friday after becoming the first all-women team to climb the highest mountains on all seven continents.
The team started their quest in 2008 by climbing Mount Everest and ended by scaling Mount Vinson in Antarctica on Dec. 23.
The women received a rowdy welcome at the airport, where team leader Shailee Basnet said they would continue to climb even after achieving their goal.
Only four of the seven team members were able to make their last journey to Antarctica because of lack of funding. They have been paying for the trips using personal savings, sponsors and fund raising events.
They have scaled Everest in Asia, Kosciuszko in Australia, Elbrus in Europe, Kilimanjaro in Africa, Aconcagua in South America, Denali or McKinley in North America and now Vinson in Antarctica.
Ang Tshering of the Nepal Mountaineering Association confirmed it was the first all women team to scale all the peaks.
Nepal has eight of the 14 highest mountains in the world, but few mountaineers from the Himalayan country are women. Of the more than 4,000 climbers who have scaled Mount Everest, more than half are Nepalese but only two dozen of those are women.
The team aimed to change the all-male image of mountaineering in their country. Nepalese women rarely got the chance to climb because they were confined to their homes while their husbands led expeditions or carried equipment for Western climbers.
It was only in 1993 that a Nepalese woman — Pasang Lhamu — first reached the 29,035-foot summit of Everest. She died on the descent.
While they travelled for their climbs, the women on the team have been talking to schoolchildren and encouraging other women to follow suit.