4 minor injuries at Spain's running of the bulls on 7th day of San Fermin Festival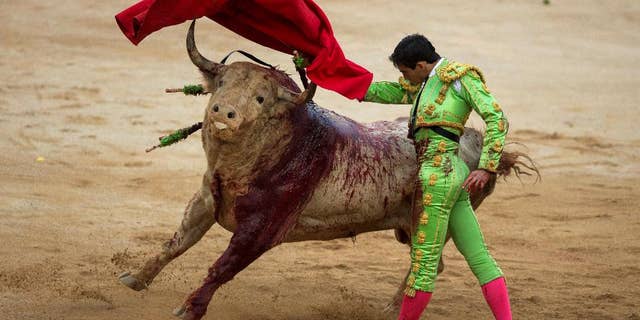 PAMPLONA, Spain – In the seventh bull run at this year's San Fermin festival in Spain, four people sustained injuries along Pamplona's narrow streets Sunday.
But none of the several thousand daredevils that tested their bravery and speed by running beside six fighting bulls were gored in one of the most crowded gatherings at this year's festivities.
A 28-year-old woman from Portadown in Northern Ireland — identified only by her initials, "K.M." — and a Spanish man were hospitalized with "head trauma," while a 38-year-old Spanish man was receiving medical attention for rib injuries and a 30-year-old man from southeastern Albacete had abdominal bruising, the regional government of Navarra said in a statement.
There were dangerous moments when one bull tossed two runners, but it narrowly missed them with the points of its horns.
The fiesta is held annually to honor this northern city's patron saint and dates back to the late 16th century.
The last of eight consecutive running of the bulls takes place Monday, after which fervent aficionados of the "encierros" — as the runs are called in Spanish — begin an impatient countdown for next year's events.
Pamplona's San Fermin feast blends adrenaline with all-night partying, and 15 people have died from gorings since record-keeping began in 1924.
The nine-day festival became world-famous after author Ernest Hemingway used it as a backdrop in his 1926 novel "The Sun Also Rises."
Most of the tens of thousands of tourists attracted to Pamplona each year come from the U.S., Britain and Australia.