4 dead when truck bomb explodes at military base in Iraq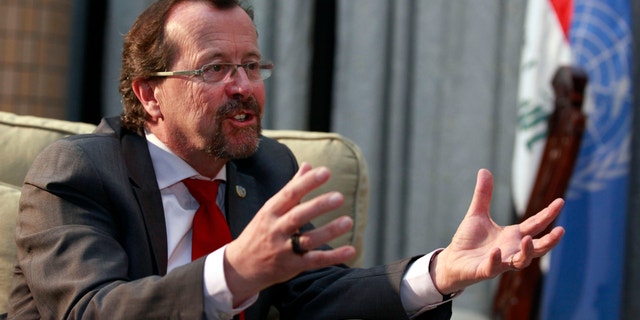 BAGHDAD – Iraq's Shiite-led government should do more to address complaints by the country's disaffected Sunni minority about human rights violations and lack of due process, the U.N. envoy to the country said in an interview Monday.
Sunnis have staged mass rallies in recent weeks to protest what they see as unfair treatment of their sect by the government of Nouri al-Maliki, a Shiite accused by critics of monopolizing power.
The protests, along with a recent spike in lethal attacks by suspected Sunni insurgents, have revived fears that sectarianism could one day tear apart Iraq's fragile national fabric. The country is home to a Shiite majority and sizeable Sunni and Kurdish minorities.
Late Monday, a suicide attacker detonated an explosives-laden truck at the gate of a military base in the northern city of Mosul, killing four soldiers and wounding seven, a police officer and a health official said. Both spoke on condition of anonymity as they were not authorized to release information.
Sunni protesters, meanwhile, say they are being targeted unfairly by the government and that vague anti-terrorism laws are being used to detain Sunnis arbitrarily. They have called for a release of prisoners, an investigation of alleged human rights abuses in prisons and ending the practice of holding wives of terror suspects.
The government has formed a committee to consider the demands, and has released about 3,000 detainees. However, thousands held on terrorism-related charges remain in detention, and there has been no sign of progress on changing legislation and policy.
Martin Kobler, the U.N. envoy to Iraq, said that while he believes the head of the committee, Deputy Prime Minister Hussain al-Shahristani, is taking the Sunni concerns seriously, "there is more the government could do" to deal with the protesters' demands.
"We have the impression that a lot of the problems (raised by the demonstrators) are rule of law, human rights problems, the situation in detention centers. And these are all problems the government can solve tomorrow," Kobler told The Associated Press.
The envoy said that while the U.N. does not deal with Sunni political demands, protesters' complaints about human rights violations are of concern.
"Every torture case in a prison is one torture case too many, and those who do it have to be brought to justice," he said, speaking at a U.N. compound in Baghdad's Green Zone, the vast, heavily fortified seat of the Iraqi government.
"This does not change overnight, but this is something we always make very clear, and we are in contact with the Iraqi authorities to bring about an improvement of these human rights demands of the demonstrators," Kobler added.
The spokesmen for the prime minister and deputy prime minister were not available for comment.
The U.S. ambassador to Iraq, Robert Stephen Beecroft, said it would be dangerous to let the problem fester -- a warning that seemed largely directed at al-Maliki.
"It's in everybody's interest to engage and try to resolve it now," Beecroft said in an interview broadcast by Iraqi TV station al-Sumaria late Sunday.
"Waiting ... is a risky strategy ... and sometimes things do fizzle out. But often times they get worse," he said, urging both sides to come up with "bold solutions to this, not tentative steps."
Kobler, meanwhile, appealed to the international community to speed up efforts to resettle Iranian exiles who have been living at a former U.S. army base on the outskirts of Baghdad.
On Saturday, assailants fired rockets and mortars at what was once known as Camp Liberty, killing six of the exiles and wounding around 40.
The camp houses about 3,100 members of Mujahedeen-e-Khalq, the militant wing of a Paris-based Iranian opposition group, the National Council of Resistance of Iran. Iraq's pro-Iranian government considers MEK a terrorist group and wants it out of the country.
The refugee camp is meant to be a temporary way station while the United Nations works to find host countries for the refugees. They are unlikely to return to Iran because of their opposition to the regime.
Kobler said the lethal attack "is a serious reminder now to increase the pressure on resettlement countries to offer them resettlement opportunities."
He said he expects Germany and other European countries to offer refuge to some of the exiles in coming months.