3 US Navy aircraft carriers operate off Korean Peninsula
NEWYou can now listen to Fox News articles!
Three U.S. Navy aircraft carriers joined South Korea forces on Saturday to begin joint naval exercises in the waters off the Korean Peninsula in a show of force against North Korea as President Donald Trump ends his five-country Asia tour.
The USS Ronald Reagan, USS Nimitz and USS Theodore Roosevelt strike groups operated together, marking the first time three American aircraft carriers have trained together since 2007, according to the U.S. Pacific Fleet which released a video of the training on Sunday. The carriers will conduct several training activities, including air defense drills, sea surveillance and defense air combat, until Tuesday.
"Clearly there's no big message," Defense Secretary Jim Mattis said Monday. "This is what we normally do with allies. This is a normal operation of interoperability and working together."
He added that arranging such joint exercises is often "a scheduling issue."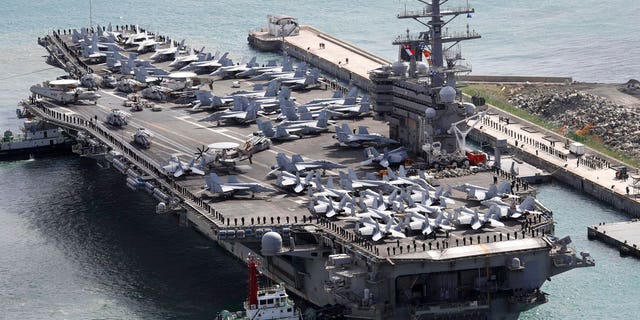 The four-day exercises also will involve 11 U.S. Aegis ships and seven South Korean naval vessels, including two Aegis ships. The Aegis technology refers to missile tracking and guidance.
They will aim to enhance combined operation and aerial strike capabilities and also display "strong will and firm military readiness to defeat any provocation by North Korea with dominant force in the event of crisis," Seoul's military said in a statement.
USS Nimitz then will proceed home to Washington State following a deployment to the Persian Gulf which included flying strike missions against ISIS. USS Theodore Roosevelt then will head to the Persian Gulf. USS Reagan, based in Japan, will continue operations in the area.
The last time three U.S. Navy aircraft carriers sailed together off the Korean Peninsula was 1969, shortly after North Korea shot down a U.S. spy plane killing 31 Americans, according to Naval History and Heritage Command.
The training comes as Trump concludes his five-country Asia tour, meeting with Philippine President Rodrigo Duterte on Monday and attending the 50th anniversary of the Association of Southeast Asian Nations. Trump's lengthy trip centered on trade and the North Korean missile and nuclear crisis. Trump met with Japan and South Korea officials early last week.
He directly addressed North Korea in a speech at South Korea's parliament on Wednesday, telling Kim Jong Un: "Do not underestimate us. And do not try us."
Trump continued his tough talk against Pyongyang on Friday in a speech to business leaders at the Asia-Pacific Economic Cooperation summit in Da Nang, Vietnam, saying that the region's future "must not be held hostage to a dictator's twisted fantasies of violent conquest and nuclear blackmail," referring to the North Korean leader.
Fox News' Lucas Tomlinson and The Associated Press contributed to this report.