3 killed in 2 blasts at Kenyan coast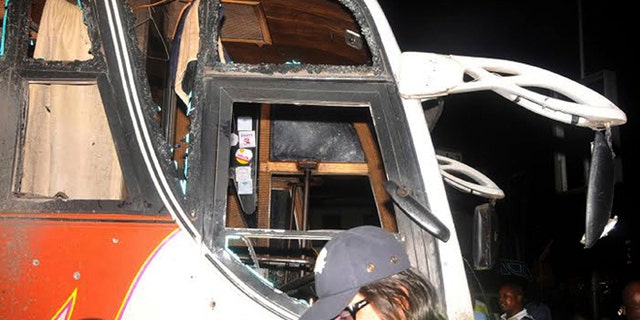 NAIROBI, Kenya – At least three people were killed in a grenade blast in one of two explosions Saturday along the coast of Kenya, an east African country working to crack down on a recent wave of terrorist attacks.
Authorities said the grenade blast at a bus stop in Mwembe Tayari, in the coastal city of Mombasa, also injured seven other people. Separately, a bag with an improvised explosive device was spotted near the coastal Reef Hotel in Nyali, and passersby noticed in time to take cover before it detonated, the Interior Ministry said. No fatalities were immediately reported there.
Authorities said they didn't immediately have an explanation for the explosions. A blasted-out bus sat at the scene of the Mombasa blast, and a man was spotted carrying away an injured child.
Ranjit Sondhi, a director at the hotel, told The Associated Press that the hotel was not damaged and the blast occurred on a nearby public beach -- much of the impact absorbed by a wall. The Interior Ministry had initially said that the explosion had taken place at a gate at the hotel, but ministry spokesman Mwenda Njoka later clarified that it had actually happened on the beach.
Kenya has been hit by a wave of gun and explosive attacks since it sent troops to neighboring Somalia to fight al-Shabab militants in 2011. The Al-Qaida-linked militants have vowed to carry out terrorist attacks on Kenyan soil to avenge the presence of Kenyan troops in Somalia. Since last month, Kenya has been conducting a security operation in response to the recent wave of terror attacks.
Last month, a car bomb exploded outside a police station in Nairobi, killing two officers and two men of Somali origin inside the vehicle. Police had impounded the car for driving on the wrong side of the road. Three ethnic Somalis have been arrested for the blast, and will be charged in court next week after police asked the court for time to investigate.
Thousands of people, mainly ethnic Somalis, have been arrested in the operation which has been heavily criticized by human rights groups who say it is fraught with abuses. Police say the operation is aimed at weeding out terrorists and illegal aliens from war-torn neighboring countries, who are blamed for smuggling small arms and other weapons in the country through porous borders.
Rights organizations accuse the police of profiling Somalis, detaining suspects without trial, denying them representation, extortion, circumventing the courts to deport Somalis back home and holding the suspects in inhumane conditions.