2015 Cricket World Cup officially launched in Melbourne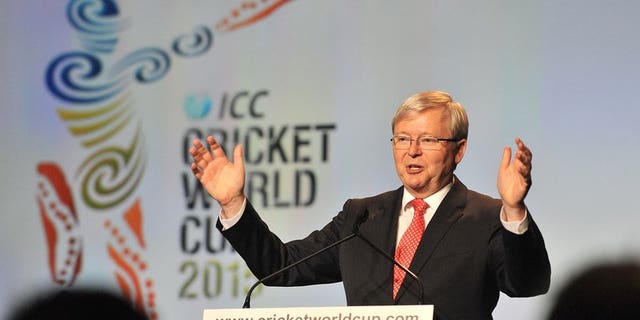 MELBOURNE (AFP) – Co-hosts of the 2015 Cricket World Cup, Australia and New Zealand, have been drawn in the same group for the tournament, while title-holders India will face off against long-time rival Pakistan, officials announced on Tuesday.
The first match of the prestigious one-day tournament will be held in Christchurch, the New Zealand city devastated by an earthquake in 2011, when the locals take on Sri Lanka on February 14.
The day-night final match will be at the Melbourne Cricket Ground on March 29.
Australia and New Zealand are grouped with England, Sri Lanka, Bangladesh and two qualifiers.
Title-holders India are pooled with Pakistan, South Africa, West Indies, Zimbabwe, Ireland and one other qualifying team.
The top four sides from each pool will go through to the knockout stage.
Forty-nine matches will be played in 14 venues across the two host nations, with Australia staging 26 games at grounds in Adelaide, Brisbane, Canberra, Hobart, Melbourne, Perth and Sydney.
New Zealand will host 23 games in seven cities, including Christchurch where international cricket is set to return for the first time since the 6.3-magnitude quake which killed 185 people in 2011.
Other New Zealand cities to host games are Auckland, Dunedin, Hamilton, Napier, Nelson and Wellington.
New Zealand captain Brendon McCullum said he was encouraged by the draw.
"We've had recent success over both Sri Lanka and England in one-dayers, so to face them and a qualifying team in the first three matches is certainly an encouraging draw for us," he said.
Australian Prime Minister Kevin Rudd, who launched the tournament in Melbourne, said the contest would likely be watched by a global television audience of one billion.
"When it comes to 2015, I don't think you're going to be able to keep anyone away," Rudd said.
"This is going to be a great, great world series."
Pool A:
England, Australia (co-host), Sri Lanka, Bangladesh, New Zealand (co-host), Qualifier 2 (TBD), Qualifier 3 (TBD)
Pool B:
South Africa, India, Pakistan, West Indies, Zimbabwe, Qualifier 1 (Ireland), Qualifier 4 (TBD)
Matches scheduled for February and March 2015