2 Turkish journalists on trial again over alleged Gulen ties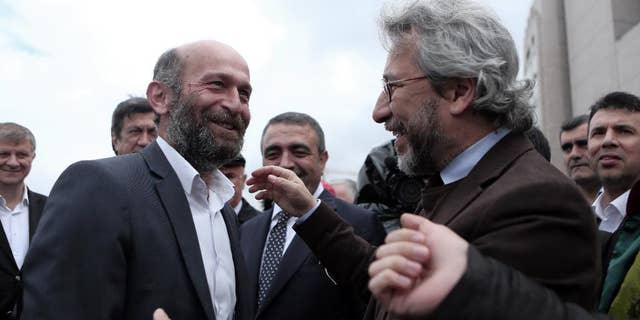 NEWYou can now listen to Fox News articles!
ISTANBUL – Two opposition journalists are on trial again in Turkey, accused of aiding the movement led by U.S.-based cleric Fethullah Gulen that the government has branded a terror organization.
Cumhuriyet newspaper's former editor-in-chief, Can Dundar, and the left-leaning, pro-secular paper's Ankara representative, Erdem Gul, were sentenced to five years in prison in May for revealing state secrets in their reports on alleged Turkish arms smuggling to Syrian rebels. They are appealing the verdict.
In the new trial that opened Wednesday, the two face up to three years in prison on charges of "knowingly and willingly" aiding the Gulen movement through the reports. Authorities allege the Gulen movement provided the images that accompanied the Cumhuriyet stories.
The government has accused Gulen of masterminding Turkey's July 15 failed coup. Gulen has denied involvement.