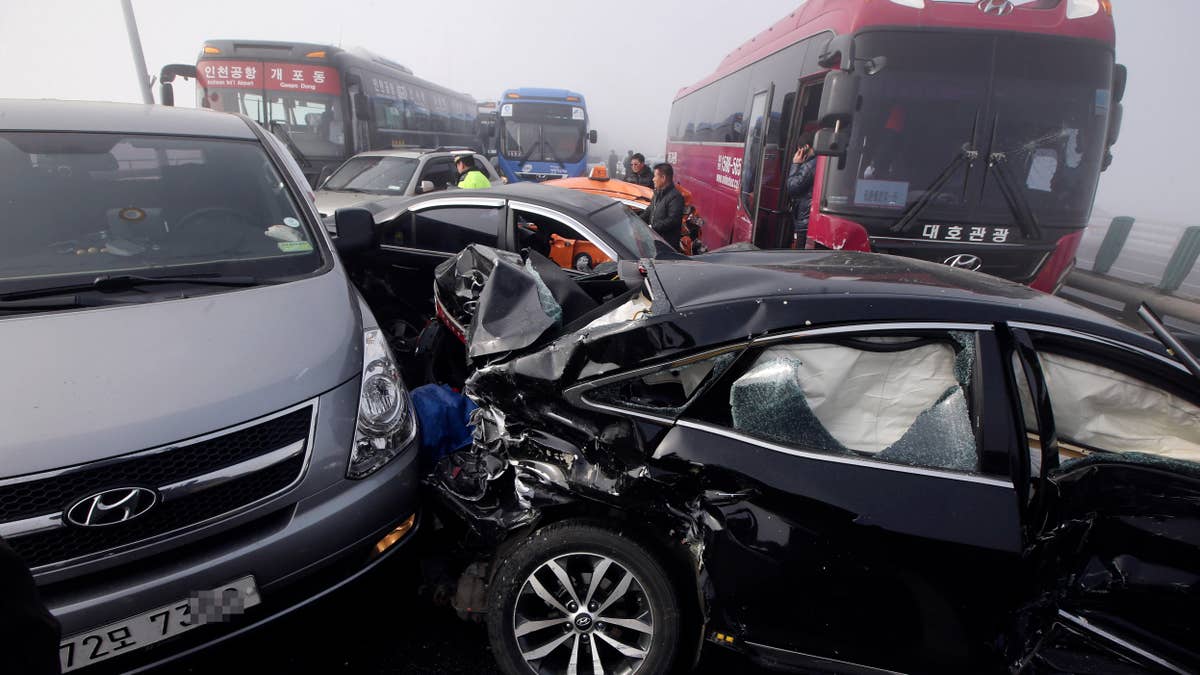 SEOUL, South Korea – Two people were killed and at least 68 were injured Wednesday in a pileup involving about 100 vehicles in foggy weather on a bridge near South Korea's Incheon International Airport, officials said.
Seven of the injured were in serious condition, said Byeon Tae-u of the Incheon Fire and Safety Management Department. He said 18 foreigners were hurt, including seven Chinese, three Thai nationals and two each from the Philippines and Vietnam.
Park Sang-yeoul, an official from the Incheon Seobu Police Station, said the damaged cars had been removed from the 14,400-foot cross-sea bridge on the highway from the airport to the capital, Seoul.
He did not have the exact number of vehicles involved in the accident, but said it was about 100.
The crash occurred in the morning in a Seoul-bound lane and was likely aggravated by thick fog and icy road conditions, Byeon said. It was not immediately known what started the pileup.
Lee Gyeong-hoon, a 39-year-old driver whose car was involved in the crash, said he was driving slowly because the fog prevented him from seeing much more than 10 meters (yards) ahead.
"I saw the brake lights of the car in front of me turn on and I stopped abruptly," said Lee, whose car was hit from behind. He was able to open the door and escape to the side.
The foggy weather delayed the departure of 18 flights and the arrival of seven others at the airport during the morning, said airport spokesman Cho Sang-hyun.
In 2006, a 29-car pileup in foggy weather on another cross-sea bridge in South Korea left 11 people dead and more than 50 injured.