2 Americans among 5 killed after small plane crashes returning from Kenyan wildlife reserve
NEWYou can now listen to Fox News articles!
At least two Americans were among five killed after a small plane carrying tourists from a nature reserve in western Kenya crashed Wednesday after attempting an emergency landing, officials and witnesses said.
The Kenya Civil Aviation Authority said on Twitter the crash took place in Londiani around 10:30 a.m. after the agency received a distress signal from the plane. The aircraft was flying from the Maasai Mara wildlife reserve to the northern county of Turkana when it crashed.
"This prompted our Search and Rescue team to initiate an emergency mission," KCAA said, adding that it had launched an investigation.
WOMAN WHO DIED ON AUSTRALIA PARTY BOAT MAY HAVE BEEN EXPOSED TO TOXIC FUMES, POLICE SAY
Kericho County Commander James Mugera told the Associated Press that three Americans were among the dead, adding that the names are not being released until their families are notified. A State Department spokesperson told Fox News on Thursday that the agency could confirm the deaths of two U.S. citizens, adding they are in communication with Kenyan authorities.
"We offer our sincerest condolences to their family and friends and stand ready to provide all appropriate consular assistance," the spokesperson said.
The Kenyan pilot was among the dead, while the nationality of one of the passengers on board has not yet been established, according to police.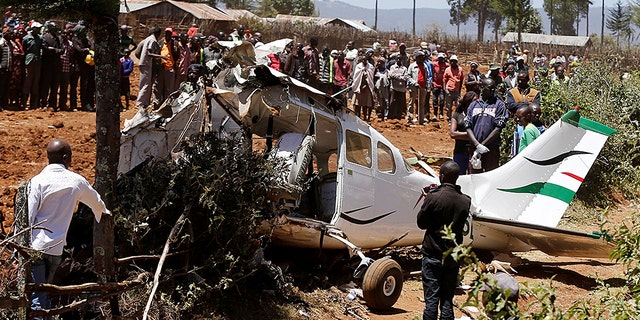 Witnesses told Reuters the plane was making "odd sounds" and clipped a tree as it attempted an emergency landing before crashing.
"The plane clipped the tree and the rear wheels came off," farm worker Joseph Ng'ethe told the news agency. "It then careened and crashed into another tree in front and into the ground."
INDONESIAN FISHERMAN CLAIMS HE WATCHED MH370 CRASH AND RECORDED EXACT LOCATION ON GPS
Small plane crashes have become more frequent in Kenya, but many are not fatal.
CLICK HERE FOR THE FOX NEWS APP
Last year, eight passengers and two pilots were killed when a single turboprop Cessna Caravan plane operated by local firm FlySax on a domestic flight to Nairobi crashed into a mountain, according to Reuters.
The Associated Press contributed to this report.