150 Detained in Moscow Anti-Gov't Protests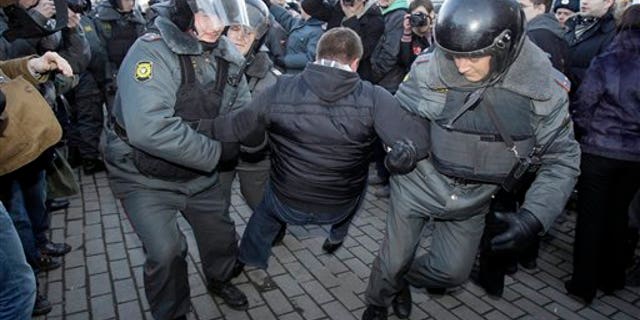 MOSCOW – Russian police arrested about 150 people, including two prominent opposition figures, who were trying to take part in unauthorized anti-government protests in Moscow and St. Petersburg on Thursday.
In Moscow, police arrested 54 people in connection with a demonstration at Triumfalnaya Square in the city center, police spokesman Viktor Biryukov told the state news agency RIA Novosti. Eduard Limonov, a leader of the Other Russia movement, was among those taken into custody. He is frequently detained at unsanctioned protests.
In St. Petersburg, police said they arrested about 100 people, including Boris Nemtsov, a former deputy prime minister who has become one of the country's most visible opposition figures.
Demonstrators in Moscow unfurled an anti-government banner and also chanted "Russia without Putin," referring to Prime Minister Vladimir Putin.
The demonstrations were the latest in a series of protests that Russian opposition figures call at the end of every month with 31 days. The number corresponds with Article 31 of the Russian Constitution, which guarantees freedom of assembly.
However, Russian authorities often deny permission for demonstrations and harshly break up any unsanctioned gatherings.
City authorities allowed another rally in central Moscow on Thursday, which attracted about 300 people.
At that rally, veteran human rights campaigner Lev Ponomaev exhorted the crowd, saying "we call on all of civil society to stop the abuses of the ruling party."
There were no detentions reported at the authorized demonstration.