1,300 rally in Berlin in support of 2 journalists being investigated for treason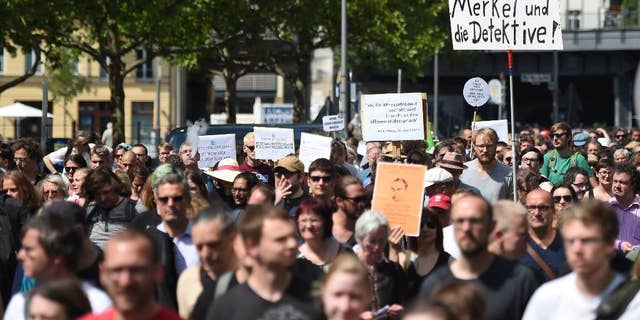 BERLIN – Some 1,300 people have rallied in Berlin in support of two journalists who prosecutors are investigating for treason over two reports revealing authorities' plans to expand surveillance of online communication.
Website Netzpolitik.org, which covers digital rights issues, said Thursday it was notified by federal prosecutors of the probe against its staff and an unidentified source over the two reports.
Ahead of Saturday's demonstration in downtown Berlin, the revelation had already prompted strong criticism from free speech activists and Germany's justice minister on Friday questioned the decision by prosecutors to open the investigation in the first place.
Some politicians have also called for Chief Federal Prosecutor Harald Range to resign.
The investigation, currently on hold, stemmed from a criminal complaint filed by Germany's domestic intelligence agency.