119 demonstrators in Taiwan indicted over anti-China protests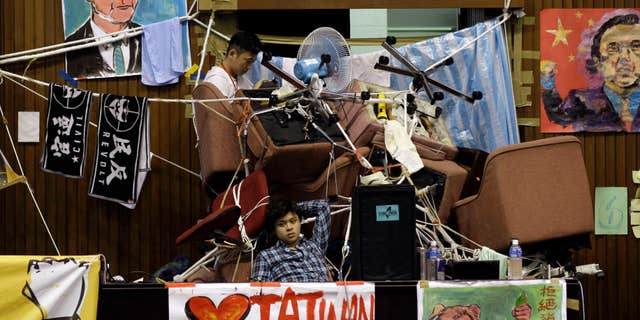 BEIJING – Prosecutors in Taiwan's capital have indicted 119 people over the occupation of the legislature and cabinet offices in a protest against a proposed agreement to loosen trade restrictions with rival China.
Those indicted included leaders of the three week-long protests that broke out last March and attracted hundreds of people, many of them university students. They stand accused of mainly minor charges of trespassing, obstructing public duties and violating laws on parades and assembly, according to the statement of indictment posted to the Taipei city prosecutor's office on Tuesday.
Christened the Sunflower Movement, the protests successfully blocked the ruling Nationalist Party's attempt to pass a trade pact that would have allowed Chinese and Taiwanese service companies such as banks and telecommunications firms to operate in each other's territory.
Protesters said the agreement would have led to job losses and posed a threat to the self-governing island democracy's security, democracy and autonomy.
Taiwan separated from the mainland amid civil war in 1949 and China continues to claim it as part of its territory to be recovered by force if necessary. While China has backed off its military threats in recent years, most Taiwanese continue to favor the continuation of the present state of de-factor independence rather than seek unification.
The Judicial Reform Foundation, a legal team which represents the Sunflower students, posted a statement to its website saying the protest action was a form of civil disobedience aimed at protecting Taiwan's democracy. It also called for an investigation into the violent police action that ended the cabinet office occupation on March 23.
"Through the law, history will render this movement a clear judgment," the statement said.