101-year-old woman wins gold in 100-meter sprint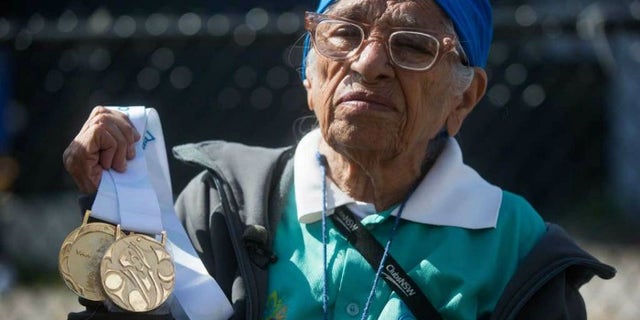 They say age is just a number, and Man Kaur can prove it. At 101 years old, the late-blooming Indian athlete was just over a minute short of beating Usain Bolt's world record in a 100-meter sprint.
Kaur, dubbed the "miracle from Chandigarh," won gold at the World Masters Games in Auckland, New Zealand, last Monday.
100-YEAR-OLD RUNNER FROM INDIA AT MASTERS GAMES
It took the sprinter 1 minute and 14 seconds to complete the race, gently slowing down in her home stretch and using her energy to smile back at adoring spectators, the Indian Express reported.
As the only competitor in the 100-years-and-over category, Kaur was guaranteed victory. And despite participation being her main priority, Kaur still managed to race against the clock and finish with a remarkable time.
100-YEAR-OLD SETS WORLD RECORD FOR 100-METER DASH
Kaur only began her athletic career eight years ago at the age of 93. She had no previous experience before her son suggested she compete with him on the international Masters Games circuit.
Since then, the mother-son duo has taken part in dozens of Masters Athletics meets worldwide. Kaur has racked up multiple gold medals and she is not done yet. She has four more competitions planned.
"I'm going to run again, I'm not going to give up," she told reporters. "I will participate, there's no full stop."
World Masters Games 2017 chief executive Jennah Wootten said the Auckland organizers were pleased to host such an inspiring competitor.
"Man Kaur truly personifies the 'sport for all' philosophy which World Masters Games is all about," Wootten said. "I have no doubt that she and many of the other 24,905 athletes competing in these games are inspiring others to lead more active lifestyles and take up a sport."