10 killed in robbery attempt in northern Iraq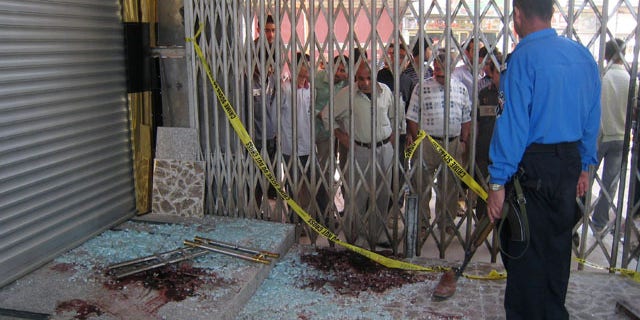 BAGHDAD – Thieves armed with guns and hand grenades stormed a jewelry shop Tuesday in northern Iraq and killed 10 people during a robbery attempt, Iraqi officials said.
Bomb attacks and sectarian violence has dropped in Iraq, but criminal activity has been on the rise, including a spate of brash daylight robberies of banks, jewelers and financial institutions across the country this year. Many of the heists have been blamed on insurgents, who are said to be short on cash and seeking ways to fund their operations.
The assailants in Tuesday's robbery attempt in the city of Kirkuk lobbed hand grenades inside the store, prompting a gunfight with police that forced the attackers to flee before they could make off with any jewelry, said Brig. Gen. Sarhat Qadir, a police spokesman in the city.
The dead included the store's three owners and four customers, including a woman and a child, Qadir said.
Three officers were also killed and 11 people were wounded, he said.
Kirkuk is an oil-rich and an ethnically mixed city 180 miles, or 290 kilometers, north of Baghdad. It is contested between Kurds, Sunni Arabs and a group with ethnic ties to Turkey.
Kurds consider Kirkuk part of their ancestral territory.
In the town of Khalis, a former stronghold of Sunni insurgency 50 miles (80 kilometers) north of Baghdad, a bomb attached to a car killed a local police commander, said Maj. Ghalib al-Karkhiin, a police spokesman in Diyala province.
Earlier Tuesday, a roadside bomb targeted a convoy carrying a senior Iraqi official while he was traveling through central Baghdad, killing a bystander and injuring four people. The deputy minister of planning, Mahdi Muhsin al-Aalak, was unharmed in the morning rush hour attack in the Karradah neighborhood, police and hospital officials in the capital said.
They spoke on condition of anonymity because they were not authorized to talk to the media.
Suspected Sunni insurgents frequently target the Iraqi security forces and government officials to undermine confidence in the country's Shiite-dominated leadership.
___
Yahya Barzanji contributed to this report from Sulaimaniyah, Iraq.