10 dead in Somalia hotel bombings, Islamic extremists claim responsibility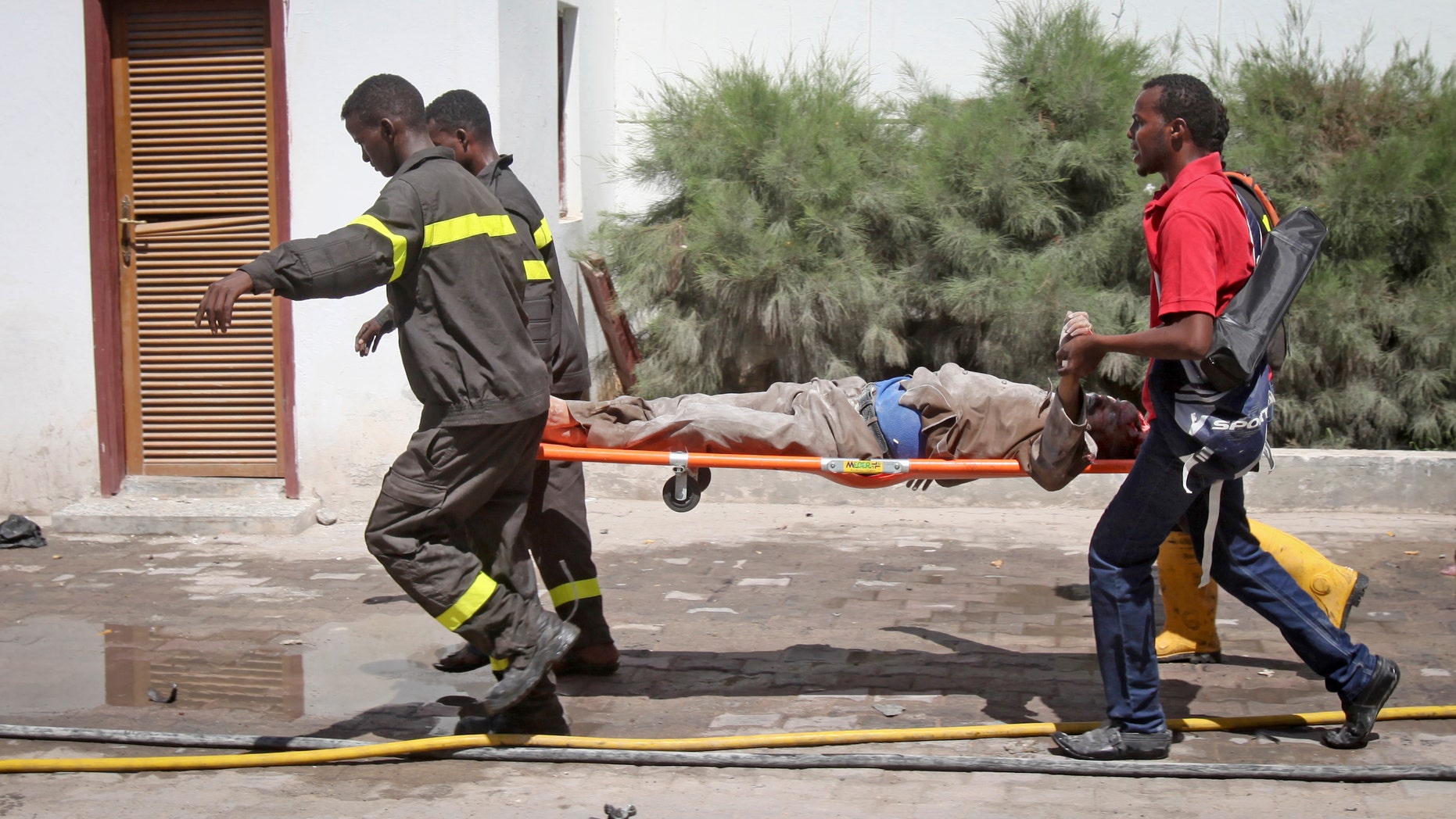 MOGADISHU, Somalia – Government officials were meeting at the Central Hotel in Somalia's capital when an Islamic extremist rammed an explosives-laden vehicle into the hotel gate, and another went in and blew himself up, killing at least 10 people on Friday, officials said.
Mogadishu's deputy mayor and a legislator were killed in the attack, a lawmaker said, and the country's deputy prime minister was among the wounded, said a police official.
The attack is the latest blow to the Somali government's efforts to contain the deadly insurgency by the al Qaeda-linked al-Shabab that, despite the loss of key strongholds in Somalia, continue to stage attacks in the capital and elsewhere. The Islamic insurgent group claimed responsibility for the twin suicide bombings, according to the group's radio station, Andulus.
"We can confirm that more than 10 persons, including politicians and soldiers were killed in that horrific attack," said Capt. Mohamed Hussein, a senior Somali police officer.
The blast ripped off large parts of the hotel's wall and smoke blackened its facade. Two dead bodies were lying outside the hotel in Mogadishu, and a wounded man struggled to stand up, but immediately collapsed as blood gushed from his abdomen. Soldiers had cordoned off the area.
Terrified pedestrians ran through the streets, with one survivor recounting the bloody scene.
"Disaster, limbs were flying scattered around like tissue papers," said Muhyadin Dahir, who was dust-faced and bloodied.
Somali legislator Omar Ali Nor and Mogadishu's deputy mayor Mohamed Aden are among the dead, said lawmaker Mohamed Ali.
"A dark day for our country," Ali said.
Deputy Prime Minister Mohamed Omar Arte was rushed to a hospital, and was among several other high-ranking government officials at the hotel at the time of the attack, said police officer Hussein.
Somalia's president Hassan Sheikh Mohamud condemned the attack on the hotel, saying it would not derail efforts by his government to restore peace to Somalia which is recovering from decades of war.
"We shall continue the anti-terrorism war, this attack makes clear that terrorists don't have any respect for the peaceful religion of Islam by killing innocent Muslims." he said in a statement issued after the attack.
This is the second attack on a hotel in Mogadishu in less than a month. On Jan. 22, three Somali nationals were killed when a suicide car bomber blew himself up at the gate of a hotel housing the advance party of the Turkish President Recep Tayyip Erdogan who visited the country days later.
Despite major setbacks in 2014, al-Shabab continues to wage a deadly insurgency against Somalia's government and remains a threat in Somalia and the East African region. The group has carried out many attacks in Somalia and in neighboring countries, including Kenya, whose armies are part of the African Union troops bolstering Somalia's weak U.N.- backed government.
Al-Shabab controlled much of Mogadishu during the years 2007 to 2011, but was pushed out of Somalia's capital and other major cities by African Union forces.