$1 million worth of rhino horns seized at Hong Kong airport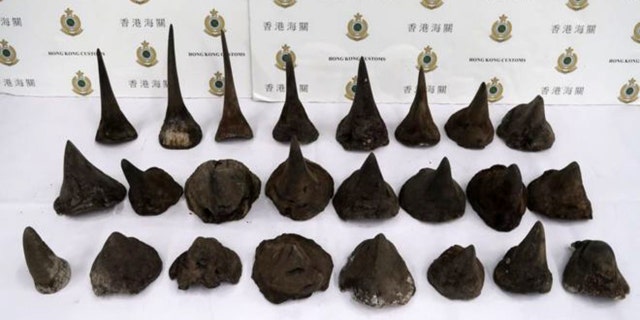 Customs officials seized more than $1 million worth of severed rhino horns at the Hong Kong International Airport on Thursday, reports say.
According to BBC, the alleged smugglers attempted to transport 24 rhino horns weighing 88 pounds from through customs packed simply in cardboard boxes and were quickly discovered by security officials.
The rhino discovery takes places just two weeks after 8 tons of pangolin scales and more than 1,000 elephant tusks were confiscated from a shipping container in Hong Kong.
AP PHOTOS: SCIENTISTS FINE-TUNE METHOD FOR SAVING RHINOS
Both pangolin scales and rhino horns are made up of keratin, the same protein which makes up hair and fingernails, and are used in some traditional Chinese medicine. The rhino horn is typically ground into a powder and dissolved in boiling water, and used to treat a wide range of ailments, including fever, rheumatism and gout, according to PBS.
China is considered a hub for illegal wildlife trade - especially Hong Kong.
The alleged smugglers attempting to transport rhino horns on Thursday were arriving in Hong Kong from Johannesburg, South Africa, and planning to travel to Ho Chi Minh City in Vietnam. South Africa is home to more than 70 percent of the world's rhino population.
CLICK HERE FOR THE FOX NEWS APP
Awareness-raising and conservation efforts have decreased the number of rhinos killed over the last five years, but the trafficking of horns still remains a persistent issue.