Mudslides trap California drivers including rapper Soulja Boy, close major highway
A winter storm that brought heavy rain to Southern California wildfire burn areas unleashed flooding and mudslides on Saturday, trapping motorists, including rapper Soulja Boy, on a major highway.
The California Department of Transportation District 7 said on Twitter that the Pacific Coast Highway will remain closed until Monday due to mudslides and flooding between Las Posas Road in Ventura County to Encinal Canyon Road in Malibu.
The deluge loosened hillsides in Malibu where a major fire burned last year and sent mud and debris onto the busy roadway, trapping drivers.
CLICK HERE TO GET THE FOX NEWS APP
Among those caught in the debris was 28-year-old rapper Soulja Boy, whose real name is DeAndre Cortez Way, and is known for his 2007 hit "Crank That."
"My car got stuck too almost went into the ocean," he posted on Twitter along with a prayer emoji.
In another series of tweets, he wrote that he was in a "very bad car accident" due to the mudslide and he's yet to get his vehicle back.
Other drivers said the debris flows happened extremely fast and brought traffic to a sudden stop.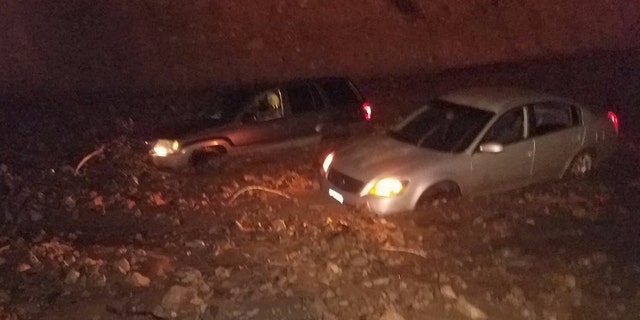 "I was on my way home, got stopped at a mudslide over there, turned back to take maybe Kanan Road or anything, but then I got stopped here and trapped in the middle," Camarillo resident Paul Dalton told ABC7.
SEVERE WINDSTORM IN WASHINGTON LEAVES HUNDREDS OF THOUSANDS WITHOUT POWER, AFFECTS ALASKA AIRLINES FLIGHTS
No injuries were reported, but the crews remained busy on Sunday clearing mud and trapped vehicles from the scenic route.
Another strong system is forecast to bring rain and snow to Northern California beginning late Sunday, according to forecasters.
Motorists are urged to use caution on mountain roads, where up to 4 feet of snow could fall in the Sierra Nevada. Scattered showers are expected across greater Los Angeles.
The Associated Press contributed to this report.