Zoo finds cause of rhino's trouble: a bullet
A resident at the San Diego Zoo came within inches of becoming a poaching victim instead of part of a conservation program.
Zoo authorities say that after southern white rhino Wallis came to the zoo from South Africa in November 2015, evidence including a wound near her heart that wouldn't heal led them to believe the 5-year-old female might have been shot at some point, the Los Angeles Times reports.
FISHERMAN'S PHOTOS OF SCARY SEA CREATURES BECOME VIRAL SENSATION
With the help of an extremely powerful metal detector brought in by the San Diego Fire-Rescue Bomb Squad, the zoo confirmed that there was metal inside the 3,000-pound animal.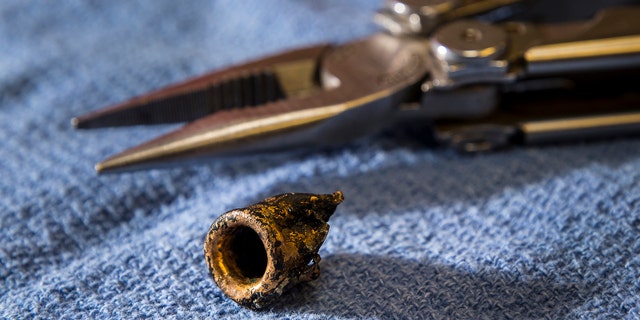 Keepers were preparing Wallis for exploratory surgery when they discovered that a bullet fragment had worked its way back to the wound, so they called zoo veterinarian Dr. Jim Oosterhuis over to remove it.
"I reached into the wound with my Leatherman tool, grasped the object, made a quick jerking motion, and out popped the bullet fragment with jagged edges," Oosterhuis says in a zoo press release. "It feels great to know that we finally have found what we believe to be the source of her infection. By having the fragment work itself out, it eliminated the need for surgery."