Yale being probed by DOE, accused of 'toxic environment against men'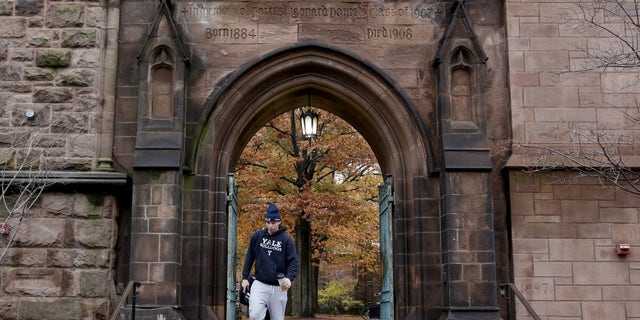 The Department of Education's Office of Civil Rights (OCR) is investigating Yale University after a male student from another school filed a Title IX complaint in February, accusing the Ivy League institution of a "toxic environment against men."
Kursat Chistoff Pekgoz, an English literature doctoral student at the University of Southern California who has no affiliation to Yale, filed the complaint after he singled out the Ivy League for its overall culture of anti-male discrimination by providing benefits exclusively for women, despite declining male enrollment. This is not the first time Yale has been accused of discriminating against men using Obama-era Title IX policies that have been pulled back under the Trump administration. But this complaint, unlike the others, is unrelated to sexual misconduct on campus.
OCR is investigating seven of the 17 organizations Pekgoz accused of exclusively benefiting women at Yale – the Women Faculty Forum, Working Women's Network, the Yale University Women's Organization, Yale Women's Campaign School, Yale Women Innovators, Smart Women Securities, and Women Empowering Women Leadership Conference. OCR dismissed complaints against the other groups because they either do not exclude men or are private or non-profit organizations not affiliated with the university.
He said he chose to file the complaint against Yale because it "has a much more toxic environment against men."
Yale spokesman Thomas Conroy told Fox News that "Yale is committed to nondiscrimination on the basis of sex in all its programs."
Pekgoz, who said he's become the target of feminist attacks, is quick to point out that he worked for a feminist organization in Turkey, which was a completely different situation as compared to American higher education, where male enrollment keeps falling and men entering the job market are making less money, "so it has to be addressed one way or another," he said.
YALE PLAYS HARDBALL WITH JACK MONTAGUE, EXPELLED HOOPS STAR, AS REVERSE DISCRIMINATION LAWSUIT CONTINUES
DOE secretary Betsy DeVos reversed policies from Obama's "Dear Colleague" letter in 2015, which was heavily criticized for being biased against men, Pekgoz said, adding that the letter "was never legally binding" and "is no longer being enforced." He also pointed out that radical feminists filed mass amounts of Title IX complaints at schools across the country – something he doesn't' want to do.
"We have this problem that male enrollment has been dropping steadily for more than a decade," Pekgoz told Fox News. "It may be necessary to implement affirmative action for men, but first we have to abolish affirmative action for women."
Pekgoz wanted to demonstrate that anyone can file Title IX and he published his own guide "Dear Colleague Letter: How to Abolish Affirmative Action for Women" so others can do the same.