Wyoming gas explosion prompts evacuation of town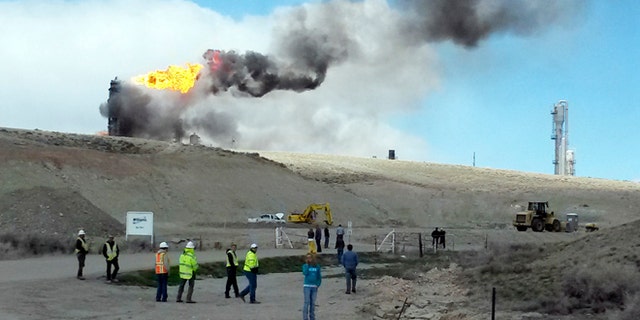 OPAL, Wyo. – Residents and emergency crews are waiting for a fire to burn itself out after an explosion at a natural gas processing plant in a small town in southwestern Wyoming.
No injuries were reported in the explosion Wednesday afternoon in Opal. The town of about 95 people about 100 miles northeast of Salt Lake City remains evacuated.
Lincoln County spokesman Stephen Malik said Thursday there's no estimate of when residents will be allowed to go home because it's not known how long it will take for all the gas in the plant to burn off.
There's no immediate word on what caused the explosion.
No structures in the town were affected, and the fire was confined to the facility operated by pipeline operator Williams Partners LP, county officials said. Williams is based in Tulsa, Okla.
The explosion occurred in the plant's cryogenic processing tower, a structure that chills unrefined natural gas to separate out impurities, but officials didn't yet know what caused the blast.
The gas processing plant in Opal removes carbon dioxide and other impurities from natural gas that comes from gas fields in the region. It sends 1.5 billion cubic feet of refined gas per day into pipelines that go to urban centers to the east, west and south.
The Opal hub, where regional pipelines converge, is the principal spot where prices are set for natural gas produced from the large gas fields in western Wyoming and the San Juan Basin in Utah. The plant makes Opal perhaps best known as a regional gas-pricing hub. Government officials and industry insiders closely watch Opal hub prices to monitor trends with regional gas supply and demand.
Williams operates the Northwest Pipeline, which runs through Opal on its way to the Pacific Northwest. An explosion in March at a liquefied natural gas facility operated by Williams on the Washington-Oregon border injured five employees.
Gas from the Williams plant at Opal serves a huge number of customers from the Pacific Northwest to Southern California, the Southwest and even as far east as Ohio, said Brian Jeffries, executive director of the Wyoming Pipeline Authority.