WWII vet gets Bronze Star he earned more than 70 years ago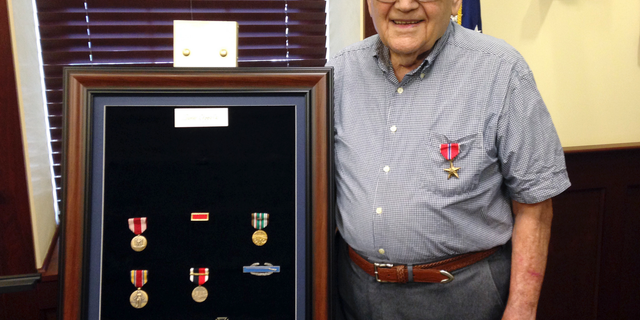 CRANSTON, R.I. – A World War II veteran who was formally presented with the Bronze Star he earned more than 70 years ago on Wednesday was quick to point out that all of the men he fought with deserve credit.
U.S. Sen. Jack Reed hosted a medal presentation ceremony in Cranston for 91-year-old James Coppola, of North Smithfield, Rhode Island.
Reed thanked Coppola for risking his life fighting in Germany as a U.S. Army combat infantryman.
"You were right there for us," Reed said.
Coppola replied, "A lot of guys were. Everyone deserves credit."
When Coppola spoke about how much the military awards mean to him, he also made sure to say, "I wasn't there alone." He said that black soldiers who fought alongside him and protected him didn't get the recognition they deserve and that still bothers him.
Reed, a Rhode Island Democrat, said it's humbling to present Coppola with the Bronze Star for his heroism and the other medals he earned.
"It's a great honor to recognize the service of an American fighting man like Jim," he said. "As a young man he risked his life to defend our country and our values."
Reed has held hundreds of similar ceremonies to recognize veterans. Coppola earned several military awards including the Good Conduct Medal.
Reed's office had sought to get recognition for Coppola's battlefield commission to platoon leader, but that request was denied by the Army.
Coppola said he was hospitalized shortly before the war ended and he doesn't know what happened to the paperwork that proves his promotion. That promotion was a "big honor," Coppola said, adding that he's grateful to Reed's staff for their hard work on his behalf.
Coppola, the father of three children, will celebrate his 70th wedding anniversary in September with his wife, Doreen.