Wreckage of missing helicopter found off Los Angeles, 2 dead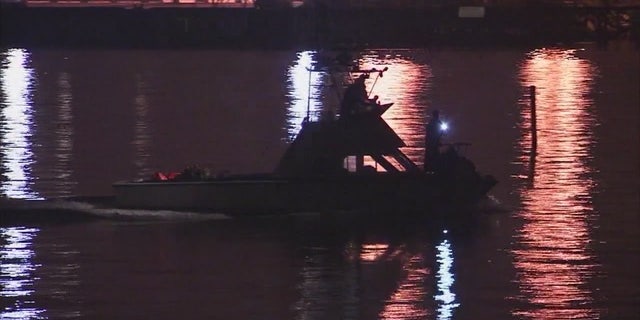 A helicopter that went missing after taking off from a Southern California airport on a photography flight was found in harbor waters with two bodies inside, authorities said Thursday.
FIRE BREAKS OUT ON OIL PLATFORM IN GULF OF MEXICO; 4 RESCUED
Searchers using sonar located the Robinson R22 shortly after 11 a.m. in Los Angeles Harbor, Port of LA spokesman Phillip Sanfield said.
Crews were trying to extricate the two victims from the fuselage, Sanfield said. He could not immediately confirm their identities.
VOLUNTEER FIREFIGHTER TRIES SAVING DAUGHTER AFTER TREE FELL ON HOME, BUT IT WAS TOO LATE
The crash was reported about 5:45 p.m. Wednesday by several passengers aboard an outbound cruise ship and fishermen along the San Pedro breakwater, authorities said.
"They noticed a small black helicopter approaching the water in what they said was a crash position," Petty Officer Andrea Anderson said late Wednesday. "It was very close to the water."
A search-and-rescue operation went through the night and continued despite rainy conditions. Coast Guard ships and a helicopter, along with police vessels, scanned the area near a harbor lighthouse.
The entrance to the harbor was closed for a time during the search, the Coast Guard said.
Authorities learned that a black Robinson R22 with two people on board took off from the airport in nearby Torrance, Anderson said. It was supposed to be taking photographs in the general area but hadn't made contact or landed back at the airport.