World's five oldest siblings say faith helped them lead long, 'happy' lives
MOLENA, Ga. – Growing up, the Mangham siblings picked cotton on Georgia farms, before seeking refuge from the beating sun under horse-drawn wagons. They stored milk in wells to keep it fresh. Every night, their father read passages from the Bible fireside. Christmas morning brought hugs and laughter with just a few pieces of fruit and candy.
Helen, Rosalee, Grace, William Decatur (W.D.) and Virginia went on to witness the introduction of electricity, television and cell phones.
The Pike County, Ga. siblings have a combined 490 years of memories – enough to earn them international recognition.
The Manghams were presented with certificates from Guinness World Records for "the highest combined age achieved by living siblings" at Beulah Baptist Church Sunday.
Five generations of Manghams, descending from Helen Mangham, 102; Rosalee King, 101; Grace Ward, 99; W.D. Mangham, 96 and Virginia Brooks, the baby at 92, crowded into a small reception room for an emotional walk down memory lane.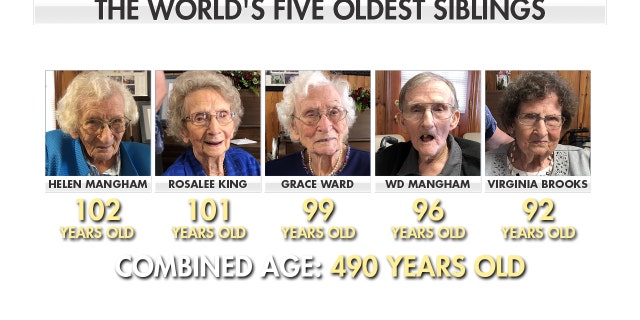 Virginia said the recognition makes her both happy and sad. She is grateful "to know there are so many who remember us from way, way back," but woeful to recognize "all of the ones, mostly our age, that have gone on before us."
Just before a tear broke from her eyes, she caught a glance of one of her great-grandchildren.
Virginia showed off a letter from granddaughter, Juliana Brooks. The first line read: "I have a famous Granny."
Albeit occasionally bashful, the five sat at a long table in the front of the room, as a line of people greeted them, one by one.
W.D., an Army veteran, cracked jokes throughout the afternoon, telling Fox News: "No one wants to see my picture!"
Rosalee – another spitfire of the group – threw her arms open wide and proclaimed, "I love all of ya!"
At the more reserved end of the table, Helen said she was delighted to be there.
"To know that people remembered us and thought of us, makes me happy," she said.
Beside her, Grace quietly thanked each passing person with a heartfelt handshake and smile.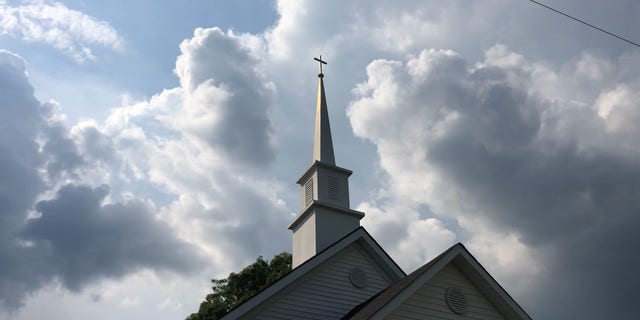 So, what's the secret to a long, happy life? The Manghams, with ranging personalities, all point to one thing – their faith.
Helen thanked God for being with her every day, "every step of the way."
Virginia agreed, using the Word to guide her life.
"Doing what the Lord needs you to do," she said. "Just to be a person that people would like to be around."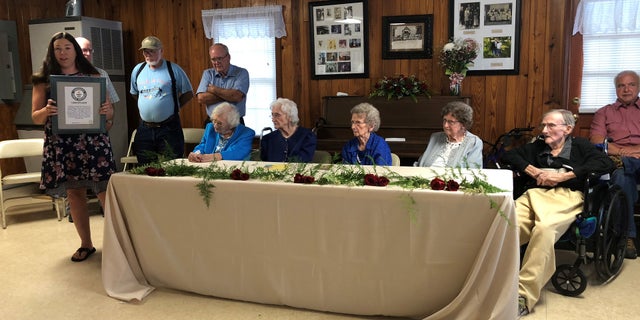 The Mangham siblings have lived a lot of life, but for them, God has been the unchanging factor in their century on earth.
Helen's granddaughter, Pam Vickers, said only in recent years, the five have started to slow down. She noted how the 102-year-old stopped grocery shopping independently just a few years ago.
Vickers led a prayer to kick off Sunday's ceremony, thanking God for the precious five.
"They're our foundation. We just thank you and give you all the glory for giving them to us for all of these many, many years…In Christ's name I pray these things, Amen."