World War II veteran posthumously honored with Purple Heart
NEWYou can now listen to Fox News articles!
A military family in Texas received a special honor on Saturday for their loved one who was posthumously awarded a Purple Heart medal.
Army Private First Class Raul Herrera Sr. served in World War II and passed away in 1992, but never received the Purple Heart for his wounds endured in service.
"He was awarded a bronze star, received his bronze star but he was never awarded a Purple Heart," Col. Rojelio Herrera Jr., his son, told FOX San Antonio.
Herrera Jr. told KENS5 his father was wounded in 1944 when he faced enemy fire while delivering much-needed supplies and ammunition to fellow soldiers. His father sprinted through dangerous territory multiple times to secure the items.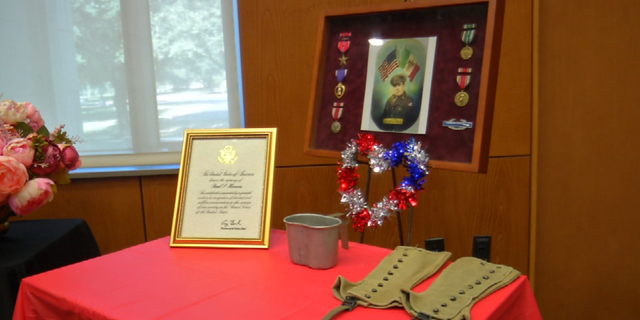 "He got wounded in the hand," Herrera Jr. told KENS5 We're not sure how bad because he went to an aid station or he got treated and he continued on, never left the unit."
'VETERANS MATTER' HELPS HOUSE THOUSANDS OF HOMELESS VETERANS
Herrera's other son, Raul, told FOX San Antonio it may have been for a variety of reasons.
"Back in the 70s there was a fire at the St. Louis repository for military records and a lot of the records were burnt, so part of dad's file was also charred," he said.
Family members from Los Angeles and Chicago gathered in San Antonio on Saturday as part of the presentation of the Purple Heart. Many of the family members, including Herrera's sons, served in the armed forces.
"It was something that my dad deserved," Herrera Jr., himself a Vietnam veteran, told KENS5. "And to know that the system works and that he finally got it is very rewarding. I wish he were actually here."