Worker fired for bringing cooler with KKK, Confederate flag stickers to job site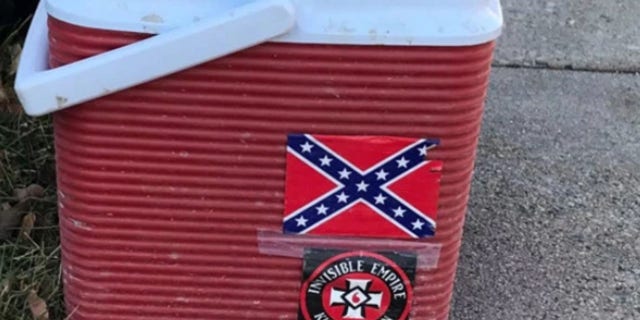 A worker at a city-contracted job site in Milwaukee is now jobless after his cooler with "offensive" Ku Klux Klan and Confederate flag stickers was spotted, city officials said.
The unidentified worker was fired three days after a photograph surfaced on social media of the cooler at a job site at North 25th Street and West Wells Street, the Milwaukee Journal Sentinel reports.
Public Works Commissioner Ghassan Korban wrote in an email Monday to several aldermen indicating that he spoke with the site's contractor several times and confirmed that the owner of the cooler had been terminated.
Korban now wants the contractor, American Sewer Services, to "develop policies to prevent this from happening again" and for other contractors to take note regarding their own policies and procedures.
Milwaukee Alderman Bob Bauman said city officials confirmed to him that the cooler belonged to an employee from American Sewer Services, the same company whose workers were photographed carrying guns at a different construction site last week, WXOW reports.
"If this company sees fit to hire individuals who basically either ascribe to, belong to or [are] sympathetic with terrorist organizations, we're going to have to take some action on a city level," Bauman told the station.
The photo and resulting controversy prompted someone to vandalize the job site, scrawling the words "racist" and "go home" on construction equipment there, according to the station.
A spokeswoman for the city's Department of Public Works, meanwhile, said the stickers were "offensive" to Milwaukee Mayor Tom Barrett and city agencies.
Click for more from The New York Post