Women's March co-founder Linda Sarsour accused of enabling sexual assault, harassment in workplace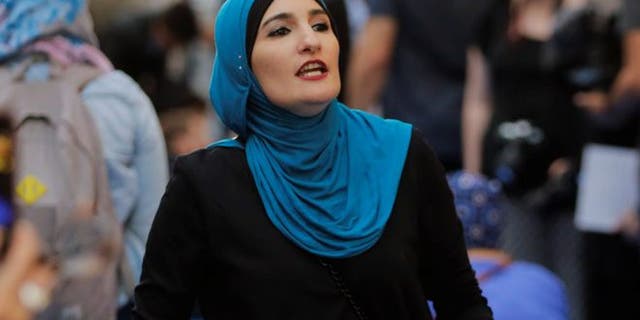 Linda Sarsour, the Pro-Palestinian activist who helped spearhead the Women's March in Washington earlier this year, allegedly enabled the sexual assault and harassment of a woman who worked for her, according to a report Sunday night.
Allegations of groping and unwanted touching were brought to the attention of Sarsour during her time as executive director of the Arab American Association, The Daily Caller reported.
Asmi Fathelbab told the website Sarsour attacked her for bringing the allegations, often threatening and body-shaming her, because the accused was a "good Muslim" who was "always at the mosque," The Daily Caller reported.
"She oversaw an environment unsafe and abusive to women," Fathelbab, a former employee at the Arab American Association, told The Daily Caller. "Women who put [Sarsour] on a pedestal for women's rights and empowerment deserve to know how she really treats us."
Reps for Sarsour did not immediately respond to Fox News' request for comment.
Fathelbab told The Daily Caller that Sarsour threatened legal and professional damage if she went public with the sexual assault claims.
"She told me he had the right to sue me for false claims," Fathelbab said, adding that the assaulter allegedly "had the right to be anywhere in the building he wanted."
Fathelbab claimed her attacker would sneak up behind her during work and rub his crotch on her.
"It was disgusting," Fathelbab told The Daily Caller. "I ran the youth program in the building and with that comes bending down and talking to small children. You have no idea what it was like to stand up and feel that behind you. I couldn't scream because I didn't want to scare the child in front of me. It left me shaking."
Fathelbab said her allegations would result in her get written up for disciplinary action. She told The Daily Caller she was once forced to talk to a detective from the community liaison division about the consequences of making false claims to the authorities.
After her contract was finished at the Arab American Association, Fathelbab said she had trouble getting new jobs.
"She told me I'd never work in NYC ever again for as long as she lived," Fathelbab said. "She's kept her word. She had me fired from other jobs when she found out where I worked. She has kept me from obtaining any sort of steady employment for almost a decade."
Sources who spoke on the condition of anonymity to The Daily Caller corroborated Fathelbab's story.
"They made it about her weight, saying she was not attractive enough to be harassed and then swept it under the rug," one source said.