Woman's obituary takes a dark turn: 'World is a better place without her'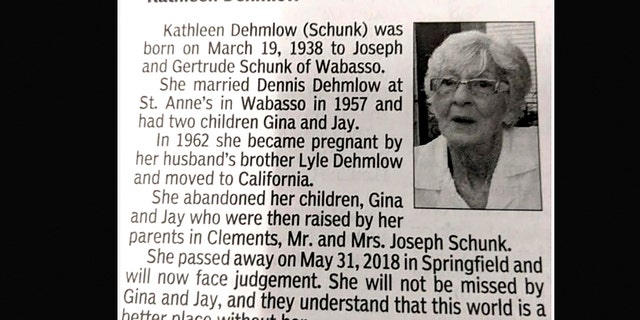 An 80-year-old woman's seemingly straightforward obituary took a dark turn that no one could have predicted.
The obituary for Kathleen Dehmlow (Schunk) first appeared in the Redwood Gazette this week. It stated she was born on March 19, 1938, and resided in Springfield, Minn. She married Dennis Dehmlow in 1957 and had two children with him -- Gina and Jay.
The next sentence is where the obituary's tone appeared to change.
"In 1962 she became pregnant by her husband's brother Lyle Dehmlow and moved to California. She abandoned her children, Gina and Jay who were raised by her parents in Clements, Mr. and Mrs. Joseph Schunk," the obituary reads.
OBIT: COLONEL LEAVES BEHIND WIFE, KIDS, BAD BELTWAY DRIVERS
The next two sentences were particularly crushing.
"She passed away on May 31, 2018, in Springfield and will now face judgment. She will not be missed by Gina and Jay, and they understand that this world is a better place without her," the obituary concluded.
Despite the harsh words, a few people shared condolences on an online version of her obituary.
"The good Lord loves you more than anyone else ever could. You are in heaven now with our savior. R.I.P.," one person wrote.
"What a life she lived. Hope you find peace," another added.
AMERICAN COUPLE SHOT DEAD IN MEXICO HOME IN APPARENT BOTCHED ROBBERY, OFFICIAL SAYS
Dehmlow's obituary was not the first to leave people talking.
Last week, Barbara Gibson, the widow of Col. Robert F. Gibson, 77, explained that her late husband despised Washington, D.C.'s "horrendous" Beltway traffic -- a view that was shared by "a lot of folks."
"He hated how all of you were incapable of driving competently," his obituary reads.