Woman who pointed out alleged rapist is sentenced in killing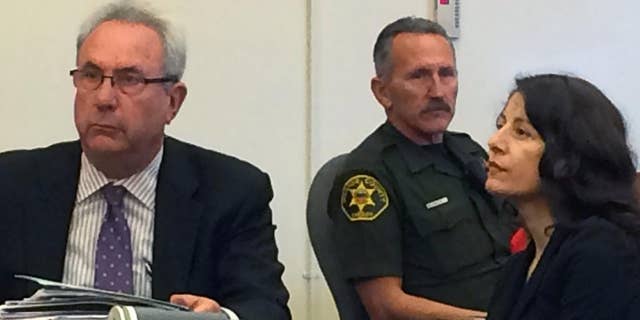 SANTA ANA, Calif. – Norma Patricia Esparza was a Southern California college student in 1995 when she says she was raped by a man she met at a bar.
Weeks later, she went back to the same spot and pointed him out to her ex-boyfriend. He and two others followed Gonzalo Ramirez out of the bar, kidnapped him and hacked him to death with a meat cleaver, authorities say.
For the next 17 years, the killing went unsolved and Esparza built her life, earning a doctorate, working as a psychology professor in Switzerland and serving as a consultant to the World Health Organization. She started a family.
But police didn't stop investigating, and they arrested Esparza and the others in 2012. She insisted she was innocent but later accepted a plea deal. On Friday, 21 years after the killing, Esparza was sentenced to six years in prison for her role.
She was not there when Ramirez was killed, but Esparza, now 41, pointed him out to his assailants, said her attorney, Jack Earley.
"She has come to the point of accepting what happened and her responsibility for not coming forward sooner," he said.
It comes after the case drew international attention after Esparza's arrest and prompted an outcry from sexual assault victims' advocates, who said the case sent a chilling message to rape survivors.
After she told Gianni Van that Ramirez had raped her, Van and two others followed and rear-ended Ramirez in his vehicle, then attacked, kidnapped and killed him, dumping his body on the side of a road in Irvine, authorities said.
Co-defendant Diane Tran also was sentenced Friday to four years in prison but freed based on time already served. Another co-defendant, Shannon Gries, got a term of 25 years to life, and told the court he would spend the time trying to make amends to Ramirez's family.
"It torments us to think of each stab, each hack and blow that he received while being tied without being able to defend himself," said a letter from one of Ramirez's brothers that a prosecutor read at the hearing.
Outside court, Senior Deputy District Attorney Mike Murray said he was disappointed that the defendants didn't acknowledge their roles in the killing.
"It didn't just happen. They murdered Gonzalo Ramirez, and I didn't hear one of them take responsibility for that," he told reporters.
Esparza's husband, Jorge Mancillas, told reporters in 2013 that his wife had told Van about the rape and Van took matters into his own hands. Esparza was forced into a sham marriage with Van to keep her from speaking out when police began investigating the killing, Mancillas said.
Esparza pleaded guilty to voluntary manslaughter in 2014, hoping to reunite later with her young daughter. As part of the deal, she testified against Van, who was sentenced last year to life without parole.
Esparza's friend Eloisa Martinez said outside court Friday that she hoped the case would encourage more victims to report rape to authorities. She did not bring her assault allegations to police when she was a college student.
"I truly believe had she said something when it happened, maybe she wouldn't be here today," she said.