Woman suspected of five-state jewelry store crime spree arrested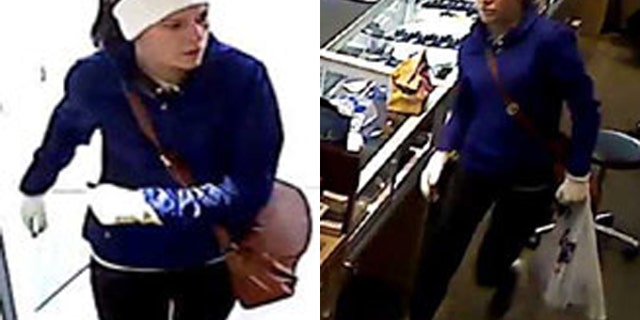 NEWYou can now listen to Fox News articles!
A woman suspected of a jewelry theft spree across five Southeastern states was arrested in Georgia along with one other person with her at the time, the FBI said Saturday.
Abigail Lee Kemp, 24, was arrested Friday in the Atlanta suburb of Smyrna, the FBI said in a statement. The statement added that the other person with Kemp was in custody as well, but the agency cited the ongoing investigation in declining to identify the other person or give more details about the arrests.
The FBI's Jacksonville, Florida field office spokeswoman Amanda Warford Videll confirmed to the Associated Press in an email that the woman's arrest comes amid an investigation of a string of jewelry thefts last year Sevierville, Tennessee; Bluffton, South Carolina; Panama City Beach, Florida; and Dawsonville and Woodstock in Georgia. She said the latest robbery occurred recently in Mebane, North Carolina.
The Atlanta Journal-Constitution reported that one of her heists netted at least $4 million. The Mebane heist occurred at a Jared Vault Jewelry store where Kemp allegedly was armed with a handgun, forced employees to the back of the store and zip-tied their hands.
The woman also allegedly stole about $13,000 worth of jewelry in Dawsonville and then stole another $40,000 worth of items in Panama City. While in Bluffton, the suspect was seen in a blue or purple striped skirt, according to WJCL-TV.
Videll said in a statement that FBI agents in Atlanta made the arrests while helping investigators in the agency's Jacksonville, Florida division. The spokeswoman said the FBI had gotten "numerous credible leads from the public" within hours of issuing a release in recent days requesting help in the case.
The FBI said the case would be handled by the United States Attorney's Office for the Northern District of Florida.
The Associated Press contributed to this report.