Woman spends 14 hours trapped in her car after wreck on California highway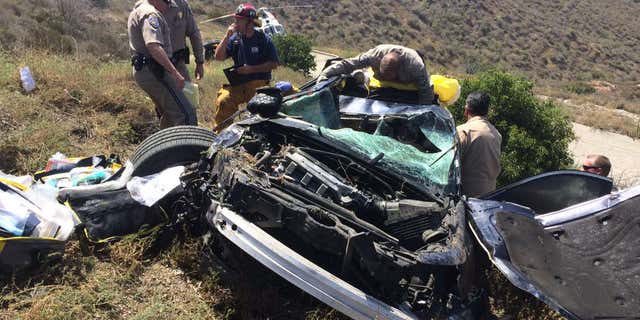 NEWYou can now listen to Fox News articles!
The husband of a woman whose car drove over an embankment in Southern California told authorities Thursday that she was trapped in her car for more than 14 hours.
The woman was driving in a remote area of Irvine and had fallen about 170 yards down to a dirt road off State Route 241. Orange County Fire Authority said officials have to extricate her from the vehicle and she was transported to a local hospital.
Sgt. Aaron Knarr of the California Highway Patrol's Santa Ana office said the crash occurred sometime Wednesday night and the woman was stuck in her car overnight. He said the woman was coming home from a friend's house when she took the wrong road.
The woman woke up at about 7 a.m. and left a voicemail on her husband's phone, Knarr said. The husband called Anaheim police, who then passed the information to Irvine police and then the California Highway Patrol, according to patrol officer Denise Quesada.
According to KTLA, the husband is a Riverside County Sheriff's deputy. He told Anaheim police that his wife was cutting in and out, but had heard something about Anaheim. Knarr said the last ping on the woman's cellphone was used to track her down – though the search was delayed because of fog.
Quesada said the beaten up vehicle was found at 10:30 a.m. Fire rescue officials said she was airlifted to Orange County Global Medical Center in Santa Ana at about 11:20 a.m.
The woman nor her husband were identified.
Fire Authority Capt. Larry Kurtz said the woman suffered non-life threatening injuries and was scheduled to have a CT scan.