Woman Sets Appalachian Trial Fastest-Hike Record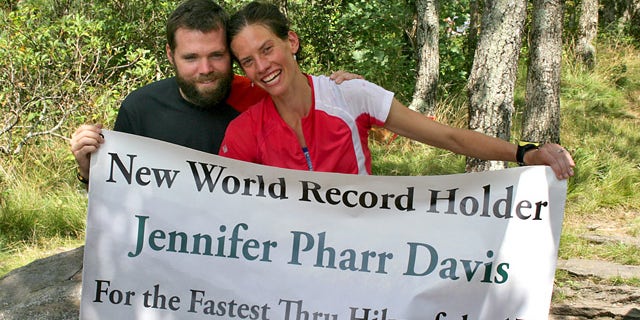 Jennifer Pharr Davis set the unofficial record for the fastest hike of the entire Appalachian Trail, yet she said she never ignored the beauty of the 2,180-mile trek down the eastern U.S.
She saw 36 bears, moose, porcupines and just about every sunrise and sunset during her journey, which lasted exactly 46 days, 11 hours, and 20 minutes since she left Mount Katahdin in Maine on June 16.
"Fastest is so relative," Davis said Tuesday after estimating she had slept about 30 of the past 48 hours. "My average was 3 mph. So what are you not going to see at 3 mph?"She emerged from the woods Sunday with her husband by her side and walked to the granite slab on Springer Mountain in Georgia at the trail's southern end. There cheering for her were her parents and dozens of other family members and friends.
"There were a lot of tears. Everyone was like, `Are those happy tears?' I just said they're everything tears. I'm so happy. In a way, I'm sad it's over. I'm tired. It was just like every emotion was coming out at once," Davis said.
She had gone through five pairs of hybrid hiking and running shoes while averaging about 47 miles a day, or nearly two marathons.
No one keeps official speed records for the trail, but Davis said she broke Andrew Thompson's 2005 mark for the fastest supported "thru hike" by just over 24 hours.
Davis has logged more than 10,000 miles on long-distance trails worldwide. She first hiked the Appalachian trail in 2005 as a recent Samford University graduate with a degree in Classics after spending years studying ancient Greek and Roman literature and history. Her homage to her education was her trail nickname, Odyssa. It was a traditional Appalachian Trail hike, with a heavy backpack, a tent and provisions doubling as a journey of self-discovery.
The second trip came in 2008 when with the support of her newlywed husband, Brew Davis. She set the unofficial women's record of 57 days and eight hours. Just like this trip, he followed her along nearby roads, meeting her at crossings with food, water or a tent so she could hike with just a few water bottles, energy bars and her cell phone.
Since she carried less gear, her hike was quieter, allowing her to see more animals and to get more in sync with nature.
Davis also provided the boost she needed when she was ready to quit during the first days of the trip in Vermont after being chilled by a sleet storm in the White Mountains. He pointed out she was ahead of the record and would feel even worse if she quit.
"There's no way I could have done it without him," Davis said. "Not just the physical, logistical support, but his emotional support."
The Appalachian Trail winds its way through 14 states and gets close to 3 million visitors a year. About 1,500 of those people try to hike the entire trail in one trip, and about a quarter of them make it all the way, according to the Appalachian Trail Conservancy.
For many of the "thru hikers," the trail turns into a communal experience. But Davis' pace kept her chances at making new friends to a minimum. An average day had her up by 5 a.m. and asleep around 10 p.m. "I said good morning and good night to the sun every single day on the trail," she said.
But the solitude always made her appreciate nature's boundless beauty.
"You have the trail to yourself. There's usually not any other hikers. More animals are on the trail at that time. You get to appreciate the sunset and the sunrise."
Davis' goal is to get more women, especially teens, to take their exercise away from air-conditioned buildings.
"I want to encourage, particularly women and children to explore the woods and be outside and enjoy nature," Davis said. "As a young woman hiking on my own, there was a lot of opposition. The woods are such a wonderful place to be."