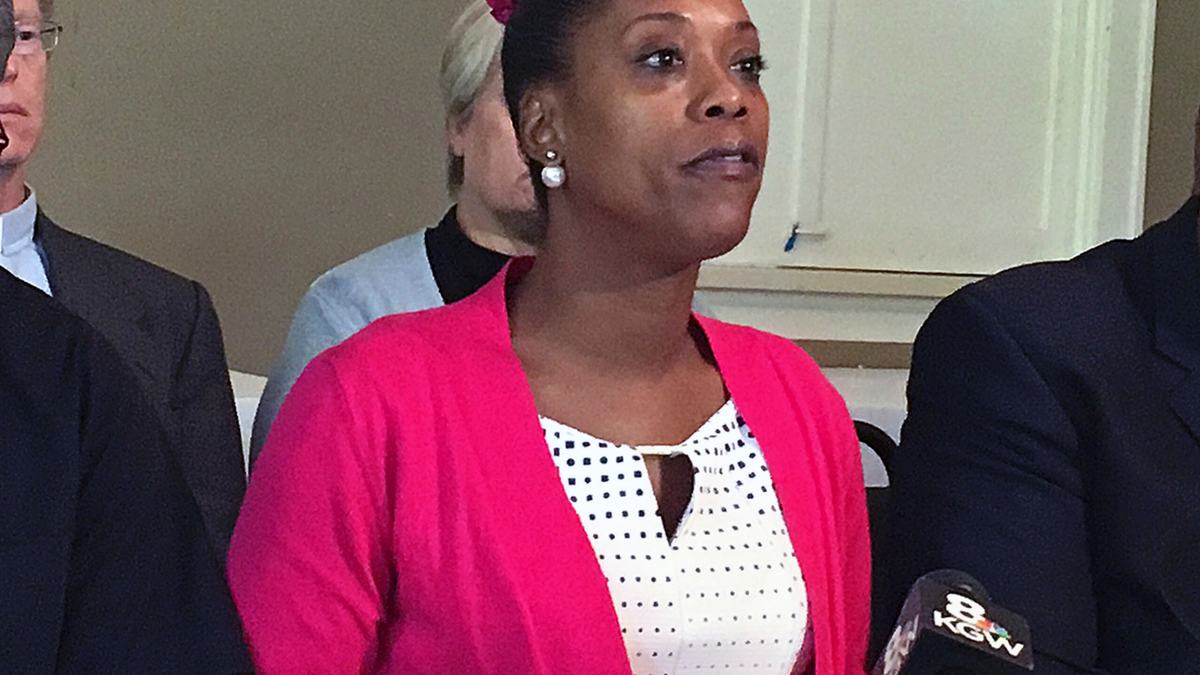 PORTLAND, Ore. – Police could have prevented the fatal stabbing of two men who came to the aid of teenage girls being harassed on Portland light-rail train if they had taken an earlier complaint against a white supremacist more seriously, a woman said Friday.
Demetria Hester, who is black, told reporters Jeremy Christian threw a bottle full of liquid at her on May 25, the night before the fatal stabbings, after she complained about his racist words during a ride they shared. Hester sprayed Christian with mace, and she said transit police let him get away after he rinsed his face with water from a fountain.
"My heart just dropped," Hester said of her reaction when learning her attacker was arrested in the fatal stabbings. "I can't describe the feeling — disappointment, frustration, irritation...I told the police what he was going to do if they did not catch him."
Though Hester's confrontation happened nearly three months ago, she chose to speak as the nation grapples with last weekend's deadly confrontation at a white nationalist rally in Charlottesville, Virginia.
"The president," she said when asked why she's breaking her silence now.
The Portland Police Bureau, meanwhile, defended its handling of Hester's case, saying she initially said Christian wasn't the bottle thrower, and only identified him as such after he started casually walking away.
Sgt. Chris Burley, a bureau spokesman, said an officer followed Christian in his patrol car until another officer arrived. Officers are trained to wait for help when dealing with a potentially violent person.
"Unfortunately, the suspect left the area as the officer was starting to follow him," Burley said. "When a cover officer arrived, both officers searched the area, but did not locate Christian."
Christian has been in jail on murder and other charges since May 26, when prosecutors say he boarded a train and yelled hateful comments, focusing on two black teenage girls, one of whom was wearing an Islamic head covering called a hijab.
When the girls moved away, he stabbed three men who confronted him, prosecutors said. Taliesin Namkai-Meche and Ricky Best were killed, while Micah Fletcher survived the attack.
Four other charges in Christian's indictment stem from the confrontation with Hester.
Christian has pleaded not guilty to all counts.
Hester, 42, said she took the train home from work at about 10:30 p.m., sitting near the conductor's door.
Christian boarded a few stops later, she said, and his agitated demeanor was similar to what was described in the next day's attack. She said he ranted about how he hates blacks, Jews, Mexicans, Japanese and non-Christians.
"He just went ranting on about how this country — that was built on our backs — was his country, and I had no right to be here. And I had to go back to my country."
According to Hester, she told Christian to lower his voice, and he responded with expletives and more racist words. She knocked on the conductor's door for help and got no answer.
The ranting continued for another three stops while other passengers paid attention to their music and phone, she said.
The pair exited at the same platform, near the arena where the Portland Trail Blazers play.
Christian threatened her and lunged at her with a bottle full of liquid, she said, hitting her in the right eye and causing it to bleed. She retaliated by spraying him in the face.
Burley, the police sergeant, said the bottle was recovered as evidence and detectives pulled surveillance video from the train. He said the officer who handled the incident saw news reports about the triple stabbing and notified his supervisors that the suspect was the same man.
Hester said police contacted her four days after Christian's arrest.