Woman Files Complaint Against Disney Over Right to Wear Hijab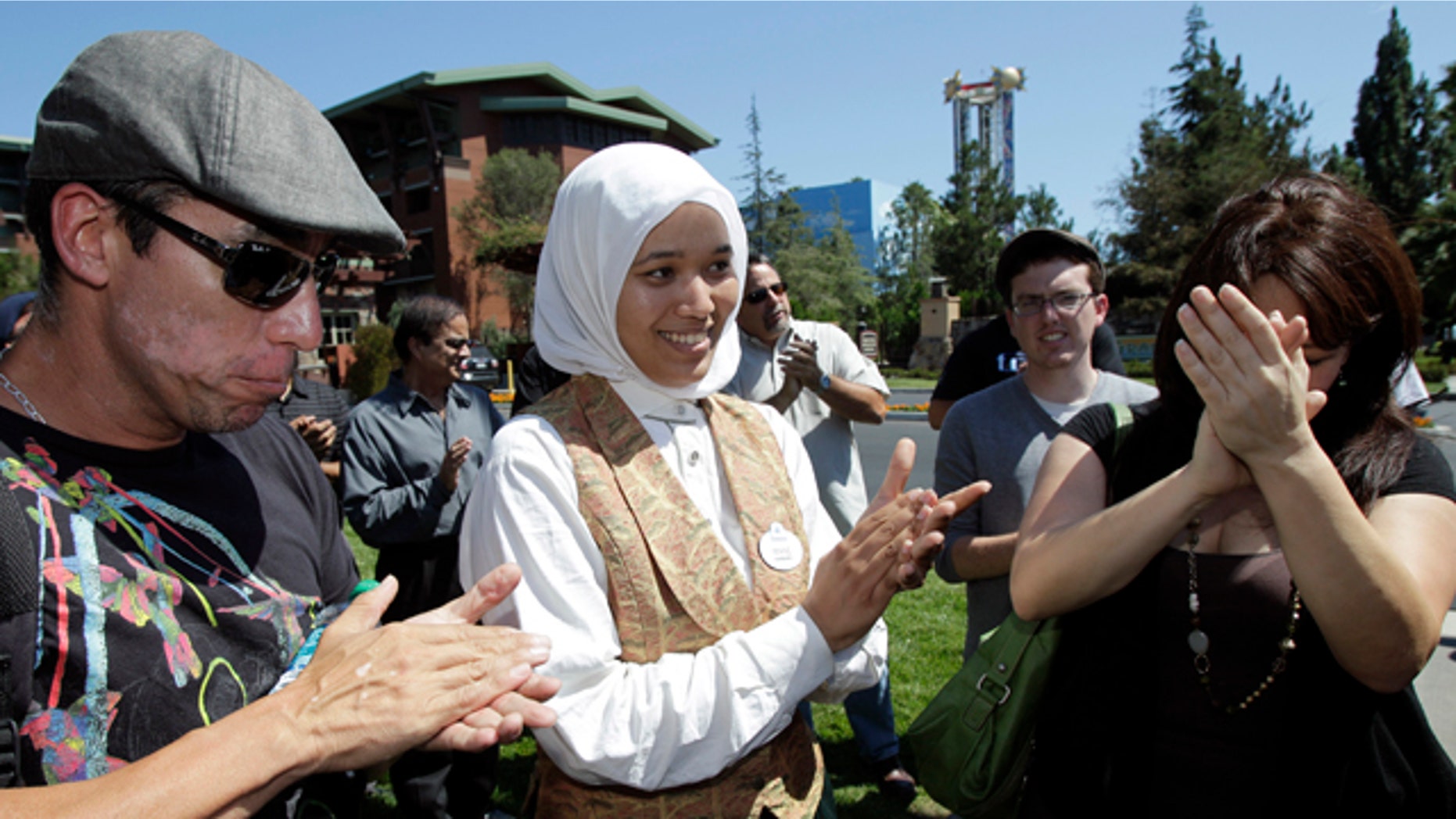 A Muslim woman who works as a hostess at a restaurant in Disneyland has filed a discrimination complaint against the world-renowned California theme park, saying officials at the park violated the law when they told her she could not appear in front of customers while wearing a religious head scarf.
Imane Boudlal, 26, of Anaheim, Calif., has filed a complaint with the U.S. Equal Employment Opportunity Commission, claiming Disneyland violated her rights when it ordered her either to remove her hijab or agree to work where customers couldn't see her at Storyteller's Café at the resort's Grand Californian Hotel & Spa.
Boudlal, a Moroccan immigrant who wore the traditional head scarf in observance of Ramadan, said she went home on Sunday after being told of her options, and she was given the same choice when she returned to work on Monday and Tuesday.
Disneyland spokeswoman Suzi Brown said the park "continues to work" with Boudlal to find a compromise that allows her to wear the head scarf within company guidelines.
"Disney is an entertainment company -- our theme parks and resorts are the stage and our costumed cast members are part of the show," Brown said in a statement to FoxNews.com on Friday. "All cast members in costumed roles, regardless of their diverse beliefs, are expected to comply with our dress codes. When cast members, regardless of their religion, request exceptions to our policies for religious reasons, we work hard to make reasonable accommodations. These have included modifications to costumes where appropriate, placement in different roles when needed, and consideration in scheduling for religious services and holy days."
Brown's statement continued, "Examples of costume modifications include accommodating religious head wear with hats, substituting skirts for pants and lengthening skirt hems to cover ankles. We have also provided many cast members with roles that do not require them to wear a costume."
Boudlal was unavailable for comment Friday.
Ameena Qazi, an attorney from the Council on American-Islamic Relations (CAIR) who is consulting with Boudlal, said she has worked at the restaurant for more than two years, but only realized she could wear her hijab to work after studying for her U.S. citizenship exam in June.
Two months after asking supervisors if she could wear the hijab at work, Qazi said Boudlal was told she could, provided it was designed by Disneyland's costume department to comply with the park's look.
Boudlal was then fitted for a Disney-supplied head scarf, but was not given a date when the garment would be finished. In the interim, Qazi said, she was told she couldn't wear her own hijab.
"After these two months and this complicated process, she decided to come forward," Qazi said. "She really wanted to be able to wear it on Ramadan."
CAIR spokesman Ibrahim Hooper said he found Boudlal's allegations particularly ironic given Disneyland's popular "It's a Small World" attraction, which features themes of unity and global peace. He cited the Civil Rights Act of 1964, which bars discrimination by employers on the basis race, color, religion, sex or national origin.
"I don't think merely wearing a head scarf [at the restaurant] could in any way produce an undue hardship for Disney," Hooper told FoxNews.com. "The request that she hide herself in the back, away from the view of customers, I think is an unreasonable accommodation and one that nobody would accept."
Hooper likened the "particularly disturbing" allegations to that of hotel officials telling minorities that they cannot work the front desk because of complaints from guests.
"It's not a reasonable thing to do," Hooper said, adding that Boudlal has offered to wear her hijab in a Disney theme or color.
Leigh Shelton, a spokeswoman with Unite Here Local 11, the union that represents Boudlal, said union officials support the woman and dismissed allegations by a Disney official that the union is distorting the facts in the case to distract from key issues in an ongoing contract battle for hotel workers.
"There's absolutely no correlation," Shelton said.
The Associated Press contributed to this report.