Woman allegedly seen in decade-old child porn photos arrested in Los Angeles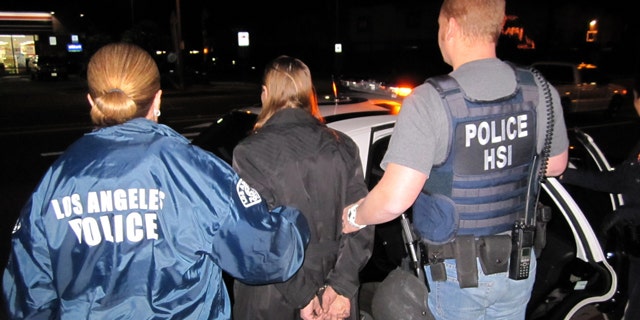 NEWYou can now listen to Fox News articles!
LOS ANGELES – A woman suspected of making and appearing in child porn photos a decade ago that have circulated widely in the years since was arrested hours after authorities released images of her taken from those shots, federal officials announced Friday.
Letha Mae Montemayor, 52, was taken into custody outside a San Fernando Valley apartment complex after authorities received several tips.
She is expected to make a federal court appearance Monday on charges of producing child pornography and conspiracy, officials said. Each charge carries a minimum 15-year prison sentence.
An unidentified man also seen in the photos was still being sought.
It wasn't immediately clear whether Montemayor had obtained a lawyer, and there was no public telephone listing for her. However, her son told a TV station that the allegations were false.
Montemayor was arrested fewer than 10 hours after federal authorities announced that they were looking for a man and woman who appeared to be molesting a girl who looked to be about 13 in photos that were widely circulated online.
Forensic experts believe the shots were taken about 11 years ago in the San Fernando Valley. A phone book and calendar were seen in the shots, officials said.
The images were first discovered by ICE agents in Chicago in 2007.
The woman in the photos had several distinctive tattoos, including a butterfly on her hip and a curled-up cat on her right shoulder.
"This arrest would not have happened without the public's help, and it demonstrates how much individual citizens can do to help law enforcement attack crime," ICE Director John Morton said in a statement.
The then-unknown adults in the photos were charged with conspiracy to produce child pornography and production of child pornography. The criminal complaint listed them as "John Doe" and "Jane Doe."
The arrest "brings us one step closer to vindicating the victim and helping to regain some dignity for all victims of child exploitation crimes," U.S. Attorney AndrDe Birotte said in the statement. "We still want the public's help in identifying John Doe and the victim in the disturbing series of images that continue to be circulated on the Internet."
Montemayor's son Paul Tucker said his mother was looking for an attorney when she was arrested, and called the allegations against her "ridiculous."
"My mom does not do anything of the sort like that," Tucker told KABC-TV.
Tucker told the TV station he remembered the girl from when he and his mother were living in a hotel, and the girl said she was 18 at the time.
"That's what she had said to us, that she was 18 but she just looked younger," he said.
The images released by authorities did not show the girl.
The search was announced Thursday in connection with an international investigation of child pornography dubbed "Operation Sunflower" that resulted in more than 200 arrests.
Morton said 123 child victims were identified during the five-week investigation, which ended in early December. ICE and other authorities found 110 victims in 19 states. Others were living in six countries.
The victims ranged from less than 1 year to 17 years old. Morton said 44 of the victims were living with the people suspected of abusing them.