Woman, 22, sought in Vegas Strip shooting, crash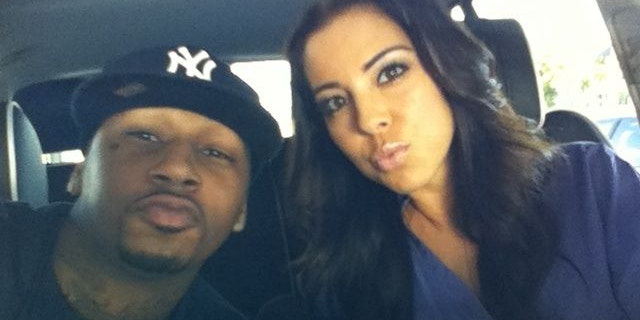 LAS VEGAS – A 22-year-old Miami woman with a history of prostitution arrests was identified Tuesday as a person of interest in a Las Vegas Strip shooting that triggered a spectacular fiery crash and left three people dead.
Police said Tineesha Lashun Howard was in a black SUV with Ammar Harris last week when he fired shots into a Maserati sports car at a self-promoted rapper who investigators say argued with Harris minutes earlier in the valet area of a glassy Strip resort.
Maserati driver Kenneth Wayne Cherry Jr., 27, was mortally wounded before the sports car accelerated and slammed into a taxi that burst into flames -- killing the cab driver and his passenger, a businesswoman from Washington state.
Colleagues of the taxi driver posted a $35,000 reward Tuesday for information leading to the arrest of Harris, a 26-year-old felon whom police last year accused of being a panderer.
"We lost one of our own in cab driver Michael Boldon," said Brent Bell, president of Whittlesea Bell Corp. and the trustee of a trust fund established to pay the reward.
Bell called the death of Sandra Sutton-Wasmund of Maple Valley, Wash., "no less tragic," and said taxi drivers' hearts also went out to Cherry's family in Oakland, Calif.
Investigators have said there were several people in the black Range Rover SUV when the shots rang out. They have only identified Harris and Howard.
Police released several photos of the two together and said Howard also uses the name Yenesis Alfonzo.
A police statement said Howard has been arrested multiple times on charges including prostitution, trespassing, possession of a stolen vehicle and grand larceny. It wasn't immediately known if those arrests led to convictions.
Police said Howard was considered missing and possibly in danger.
Harris, who was convicted in South Carolina in 2004 of felony possession with intent to sell a stolen pistol and convicted in Atlanta of a misdemeanor marijuana possession charge, is sought in Las Vegas on three murder charges.
Police have said they won't rest until he is in custody.
"We are confident we know what happened and how," Las Vegas police homicide Lt. Ray Steiber said Tuesday of the shooting and six-vehicle crash. "All this is about now is locating him and arresting him."
Police previously released a photo of Harris taken after his arrest last year in Las Vegas in a 2010 prostitution case using the name Ammar Asim Faruq Harris. He was charged with robbery, sexual assault, kidnapping and coercion with a weapon, and police sought charges of pandering by force and felon in possession of concealed weapon charges. Court records show that case was dismissed last June.
Ads with Harris' photo also were posted Monday on billboards along major southern Nevada freeways.
The image shows Harris with tattoos on his right cheek and words on his neck above an image that appeared to depict an owl with blackened eyes. Police said Harris should be considered armed and dangerous.
Public records show Harris previously lived in South Carolina and Georgia, and told police when he was arrested in Miami Beach last December that he had lived in Florida for about a year.
His SUV was found Saturday at a gated apartment complex where he lived, two blocks east of the Strip.
Steiber said a dealer ad that witnesses reported seeing in place of a license plate on the SUV after the crash had been replaced.
"The vehicle had been changed by the time we found it," the homicide lieutenant said Tuesday.