With portable beach jails and extra medical staff, Florida copes with spring breakers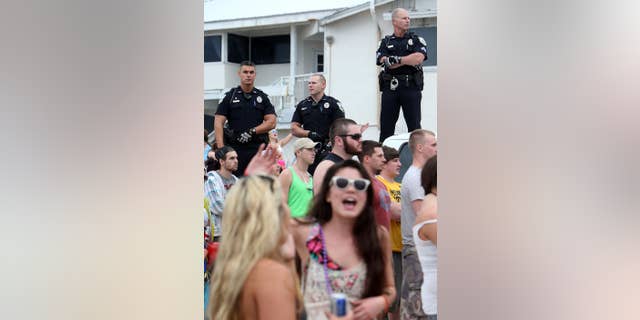 PENSACOLA, Fla. – From portable beach jails to extra emergency medical staffing, Florida is coping with the annual — but not altogether unwelcome — invasion otherwise known as spring break.
But if your impression of spring break from MTV and "Girls Gone Wild" is of an unscripted, chaotic mess of beaches, booze and bikinis, you're only partly right. The state's Gulf Coast does experience an onslaught of thousands of teenagers and college students every spring. But the fact is, the bulk of spring tourism to the state is families, said Paul Phipps, spokesman for Visit Florida.
And this year, Phipps expects March and April to break Florida tourism records because of pent-up demand created by unusually cold and snowy weather in much of the country.
"January and February numbers were up over last year and we expect that trend to continue," he said.
More than half the state's spring break visitors will head to theme parks and other attractions in Orlando. This is the third-most popular time of year to visit Orlando after peak summer and Christmastime, according to Mark Jaronski, spokesman for Visit Orlando. Advance hotel bookings for March and April already indicate a record spring season for the area, he said, despite the lack of discounts this time of year.
In Panama City Beach, officials are preparing for a different demographic: thousands of teens and 20-somethings. Dan Rowe, president of the Panama City Beach Convention and Visitors Bureau, expects 250,000 to 300,000 college students during March.
The city brings in dozens of additional law enforcement staffers from outside agencies to handle the crowds, along with a mobile booking unit with a juvenile detention area. Panama City Beach Police Chief Drew Whitman, who has 20 years of experience with spring break law enforcement, said the mobile unit allows officers to enforce underage drinking and other violations without making the two-hour round trip from beach to county jail.
The spike in law enforcement activity following a slow winter has already started. Between March 7 and March 12, Whitman said Panama City Beach made 211 arrests, most for underage drinking, public intoxication, DUI and other spring break-related offenses, including one person charged with sexual assault, he said.
And despite precautions and enforcement, tragedies happen. Rice University student Reny Jose went missing early March 3 after witnesses said he took LSD the previous evening at a beach house. Officials have been searching for him since. Another spring breaker died March 9 in a DUI-related crash.
Whitman encourages commonsense safety for spring breakers like sticking together and keeping an eye on each other and an eye on drinks, so nobody can slip anything in them.
"The hotels have extra security staff, we have on our website information about how to enjoy spring break responsibly, and police walk the beaches and interact with the kids throughout the day to make sure that they are staying smart and to addresses situations before they occur," said Rowe, the convention and visitors bureau president.
Even after spring break, Panama City Beach law enforcement stays busy through the summer with tens of thousands of visiting families and other tourists.
Other beaches have fewer college-age spring breakers, but still expect crowds. Destin has long been a favorite destination for vacationers throughout the Southeast and expects crowds again this season.
Another concern is beach safety in a region where rip currents claim lives from drowning every year.
"The beach is a lot of fun but it can be a dangerous place particularly when people are drinking and there is rough surf," said Sgt. Jason Fulghum, who oversees beach patrols for the Okaloosa County Sheriff's Office.
Buck Lee, president of the Santa Rosa Island Authority, which oversees Pensacola Beach, said officials monitor beach conditions and add life guards and beach patrols on the roughest days.
Pensacola Beach's annual Mardi Gras Parade brought about 50,000 visitors to the beach on March 2, some 20,000 more than in 2013. Lee said the spike in parade attendance suggests a busy spring and summer tourist season.
Tori Lellbach, 19, and Stefani Schrader, 19, university students from Lexington, Ky., chose Pensacola Beach as their spring break destination because it is more laid back than Panama City Beach. "It is not as crowded," Lellbach said.
But the women and two other friends said safety is a top priority. "We always stick together, look out for each other. That is what you have to do these days," Schrader said.
Carlos and Mundy Fernandez chose Pensacola Beach because it was cheaper and less crowded than other Florida destinations while still providing a nice getaway for them and their sons, ages 11 and 15.
"This is a nice place for families," Mundy Fernandez said. "We can enjoy the beach and keep the boys away from some the spring break craziness with all the older college kids in some of the other places."