Wisconsin Army Veteran Allowed to Keep Flag on Display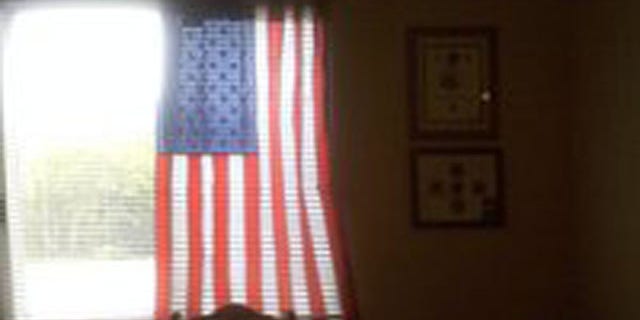 A Wisconsin Army veteran -- who faced eviction this week for flying the American flag -- will now be allowed to keep the flag up for as long as he wants.
Under mounting nationwide protest, Charlie Price, 28, of Oshkosh, Wis., and officials at Midwest Realty Management struck a "mutual agreement" that allows the veteran to continue displaying the patriotic symbol, according to a statement posted on the company's website on Thursday.
Price and his wife, Dawn, 27, were previously told they had to remove the flag -- which hangs in a window inside the couple's apartment -- by Saturday or face eviction due to a company policy that bans the display of flags, banners and political or religious materials.
"It means the world to me," Price told FoxNews.com. "The way it happened wasn't the right way because the staff members were getting threatened and we didn't want any violence out of this, but I'm glad we did come to a compromise."
Randy Rich, the apartment complex's property manager, told FoxNews.com that Midwest Realty Management received nearly 4,000 e-mails and thousands of phone calls in connection to the controversy.
"A few were questioning our policies and were civil in nature," Rich wrote in an e-mail. "However, most were filled with profanity and demeaning statements. Hundreds contained threats to our property, our employees and their families."
Rich said a Facebook page created by Dawn Price contained personal information of some employees at the apartment complex that led to harassing messages. The company has asked her to remove that information since it "has no bearing on this situation or her goal of changing the current flag legislation," Rich's e-mail continued.
"I will be putting a boycott on your rentals," one message reportedly read. "I will be telling anyone and everyone I know not to rent from you."
Another reportedly read: "You are going to evict someone for displaying an American flag on Memorial Day? Shame on you for dishonoring a veteran."
A Facebook group created by Dawn Price, "Freedom to Display the American Flag," had roughly 2,000 members on Wednesday. As of early Friday, that number had grown to more than 44,000.
Price, who served tours of duty as a combat engineer in Iraq and Kosovo from 2000 to 2008, said he'll now work on amending the federal Freedom to Display the American Flag Act of 2005, which states no "condominium association, cooperative association, or residential real estate management association" may stop someone from flying the American flag. The law, however, does not apply to renters.
"I never thought it would be an issue," Price said, especially since the flag was inside his apartment. "It's a holiday when we should be able to show all of our pride and the respect for the people who fought for it, from the Civil War all the way to today."
In a statement posted on its website on Thursday, Midwest Realty Management apologized to Price and all U.S. veterans.
"It was never our intention to hurt the Prices or disrespect what Mr. Price and all veterans have sacrificed for each and every one of us," the statement reads.
The company will now revise its policy to allow residents to "honor America" and display the flag in a manner similar to the Prices, who have hung the symbol in their apartment since Veterans Day.
"Again we apologize to the Prices and anyone else who was offended by our actions," the statement continued. "It is our sincere hope that our apology will be accepted and the changes we are making will be beneficial to our company and our residents."
Price's wife, Dawn, told FoxNews.com earlier this week that she began decorating their apartment last year to honor his eight years of service. An American flag topped off the display, she said.
"I knew it made Charlie really proud to see that," Dawn Price said on Tuesday. "And this isn't something new. This has been up for quite some time now."
Veterans' groups were furious at the realtors' initial refusal to allow the flag to fly.
"As a veteran, it sickens me that the Dawn and Charlie Price's building management company would imply that the American flag could be construed as offensive by their residents," Ryan Gallucci, a spokesman for AMVETS, told FoxNews.com on Tuesday. "We're talking about our most revered national symbol. This is insulting to anyone who has defended our flag honorably, like Charlie Price."
Charlie Price said he wanted to thank everyone who contacted him and his wife since the controversy began last week when they were told they had to remove the flag or face eviction.
"I would like to thank all the supporters out there," he said. "We're looking to do this the right way. Right now, we're concentrating on amending [the Freedom to Display the American Flag Act of 2005] so everyone can show their pride in their country."