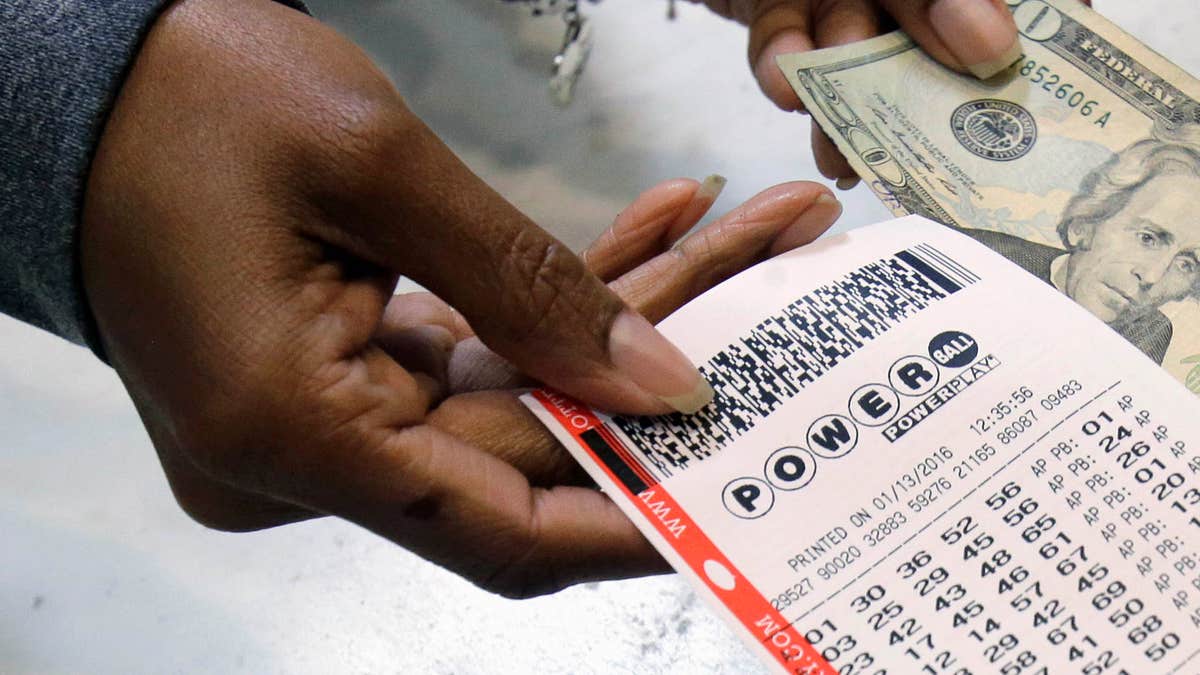 Someone is holding onto the sole winning Powerball ticket that was sold in New Jersey and the jackpot was at $429.6 million, lottery officials said Sunday.
Only one ticket matched all six numbers in Saturday night's drawing, said Powerball spokeswoman Kelly Cripe. The winning Powerball numbers were 5-25-26-44-66 and the Powerball number was 9.
Lottery officials in New Jersey said Sunday afternoon that the winning ticket was sold at a 7-Eleven store in Trenton, the state's capital city. It was purchased as a cash ticket and is valued at $284 million.
The ticket holder has not yet come forward to claim the prize.
"We have never had a winning ticket this big, not even close," said Marcelo Chilel, who works at the store where the winning ticket was sold. Chilel said he and his colleagues are "amazed" that it happened.
Chilel said that when he heard the ticket was sold in Mercer County, he thought it would be great if it was sold at the store where he works. And when he found out that was the case, he says he felt very happy for the customer.
"It's great that they got it here," he said.
Chilel said the store does a steady lottery business, with more people showing up when the jackpots get big. He said several store patrons asked him Sunday if he knows who bought the ticket, and several television news crews were at the store asking the same question. But Chilel says he has no idea who bought it or when it was sold.
New Jersey lottery officials were also ecstatic about the news.
"Winning the Powerball jackpot is a life-changing event. Congratulations to the ticketholder(s) and to the retailer who sold it," New Jersey Lottery executive director Carole Hedinger said in a statement. "We expect that the winner or winners will take their time before claiming the prize and consult with the appropriate professionals that can assist them in navigating these unchartered waters. Certainly though, we will be anxiously awaiting the phone call."
Hedinger said the jackpot is the seventh-largest in Powerball jackpot history.
The jackpot Saturday had climbed to nearly $430 million, making the prize the largest since a record $1.6 billion payout in January that prompted some to wait in hourslong lines outside lottery retailers. But unlike Saturday night's drawing, that jackpot was shared by three winning tickets.
Only one winning ticket will claim Saturday night's prize, though it was not immediately known if that ticket was held by one person or multiple people. Cripe said a winner, or co-winners, electing a one-time cash payout will receive $284.1 million.
Several lottery players in New Jersey who don't hold the winning ticket said Sunday that they wish the big winner well.
Among them was John Warren, who joked that he had all the winning numbers that were drawn. Unfortunately, he didn't have more than two of them on any one of the $40 worth of tickets he had bought.
"I know I'm more likely to get hit by a bus or lightning than win a big jackpot like this one," the Lakewood man said as he sipped a cup of coffee in a convenience store parking lot in Jackson Township. "But I was hoping to maybe win a couple hundred bucks or so in smaller prizes. Instead, I won $2, which paid for this coffee."
Warren's pal, Tommy Young, said he doesn't play the lottery often. But he spent $5 this week.
"Not a winner in the bunch, not even close," Young said. "But it was fun to think about cashing in the winning ticket."
This isn't the first time Powerball luck has struck in New Jersey. In 2013, a sole ticket claimed a $383 million Powerball jackpot.
Seven tickets from Saturday night's drawing matched five numbers and claimed $1 million, including three in New York, two in Illinois and one apiece in California and Virginia.
Powerball is played in 44 states plus Washington, D.C., Puerto Rico and the U.S. Virgin Islands.
The odds of winning are one in 292.2 million.