Winds hinder fight against southern Arizona's Sawmill Fire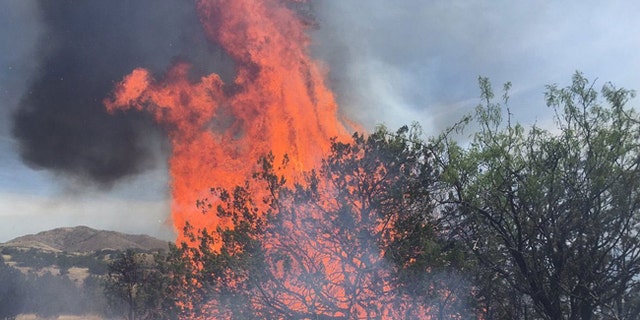 Strong winds are hurting the fight against the Sawmill Fire and crews estimate the wildfire is between 17,000 and 20,000 acres wide. It's burning 10 miles southeast of Green Valley, which is south of Tucson.
About 100 residents have been evacuated and several more communities are under pre-evacuation orders.
State Route 83 is closed north of Sonoita, just south of Interstate 10.
Hundreds of firefighters are working to fight the flames on the ground, but air tankers have been grounded due to windy conditions.
US SUMMER FORECAST: STORMS HOLD BACK HEAT IN NORTHEAST, WILDFIRES RAGE OUT WEST
For affected residents with small animals - call the Willcox Police Department at 520-384-4673 about space available at the Willcox Animal Shelter located at 1563 Stewart St. Another option is the Tombstone Animal Shelter - contact Elaine at 520-559-0030 about available space. For residents with large animals in the J-6 area, contact Robertsons Horse Sale at 714 N. Madison Ave. in Benson at 520-586-9230.
Click here for more from Fox 10.