Wildfires threaten towns in rural Oklahoma, Kansas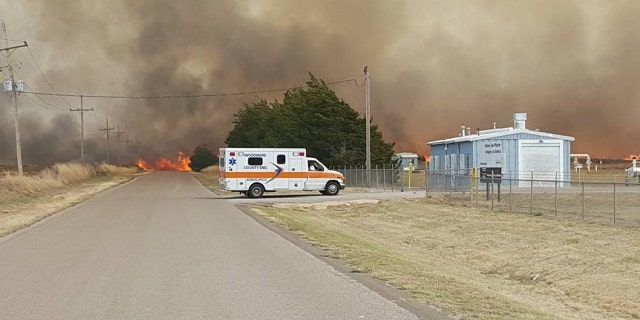 OKLAHOMA CITY – Authorities are responding to wildfires in Oklahoma and Kansas that have led to evacuations, scorched mostly rural land and destroyed an unknown number of structures.
In Oklahoma, the largest fire was in the same area near the border with Kansas where blazes last month scorched hundreds of square miles.
Authorities there urged the approximately 300 residents of Freedom, about 170 miles northwest of Oklahoma City, to evacuate, Woods County Emergency Management Director Steve Foster said.
The fire was burning uncontrolled, stoked by wind gusts of around 40 miles per hour, said Woodward County Emergency Management Director Matt Lehenbauer. By late evening Tuesday, the flames had stalled at the Cimarron River west of Freedom, but officials remained wary of its potential threat to the town.
"We're going to have to really watch it, because if it jumps that river, it's going to be tough to stop again," Lehenbauer said.
Oklahoma Forestry Services said in a statement that structures had been lost in the fire and in another blaze in the central part of the state. Spokeswoman Hannah Anderson said the agency doesn't have accurate damage totals yet.
Officials estimate the fire has burned roughly 40 square miles of rural land. Local television video showed the fire crossing a road and sending thick plumes of smoke into the air. More than a dozen fire departments and Oklahoma Forestry Services were fighting the blaze, Lehenbauer said.
There were no immediate reports of injuries in either state.
While reporting on the fire for Oklahoma City's KWTV station, storm trackers Amy and Val Castor saw a road grader traveling in the path of the quick-moving flames. Val Castor said he figured the driver had no chance to escape the vehicle before the flames reached him, so Castor drove near the road grader and urged the driver to jump in their car.
"There's no way you can outrun that fire," Castor said. "It probably would have burned him up if he had stayed there."
The road grader, stuck in the dirt, became engulfed in flames seconds after the driver leapt out and ran to the Castors' car. Large flames could be seen blowing toward the windshield as they pulled away.
The town of Freedom is about five miles southwest of the spot where a previous fire started in March, then spread from Oklahoma into Kansas, scorching an estimated 574 square miles of rural land in the two states.
Tuesday's fire threatened homes and an iodine-manufacturing plant, Lehenbauer said. Officials don't believe the plant would be a significant explosion risk, but it could produce environmental hazards if it caught on fire.
In central Oklahoma, another fire north of Luther prompted local officials to advise nearby residents to evacuate, according to a statement from the state emergency management office. Eight fire departments responded to fight that blaze. Luther is about 25 miles northeast of Oklahoma City.
Firefighters had set up containment lines they expected would prevent the fire near Luther from spreading far beyond its path Tuesday night, although no containment figure was readily available, Anderson said.
In Kansas, the Adjutant General's Office said in a statement that about 100 to 150 mobile home residents were evacuated in Riley County, where officials said the fire had burned just under a square mile but been contained.
Eight homes were evacuated in nearby Geary County, and voluntary evacuations were underway in Alma in Wabaunsee County. The statement said a fire is threatening the southern edge of the town.
Across the state in far southwest Kansas' Morton County, a fire was threatening the town of Wilburton.
The National Weather Service warned that conditions conducive to fire, including low humidity and high winds, are forecast to occur in both states through Wednesday.